Ntiva helps government contractors achieve CMMC (Cybersecurity Maturity Model Certification) compliance as quickly and efficiently as possible so they can get back to business as usual.
Costs can easily balloon out of proportion if you don't have experience achieving CMMC compliance. As a CMMC registered provider organization (RPO) with over 20 years of experience helping government contractors maintain various security requirements, Ntiva experts can help you know what it's going to cost from the start (while helping you control these costs).
In this guide, we provide an overview of the CMMC compliance support offered at Ntiva and answer frequently asked questions about CMMC compliance.
Learn how Ntiva can help you find the fastest, most cost-effective path to CMMC compliance by booking a consultation.
How Ntiva Helps Contractors Meet CMMC Requirements
Ntiva has helped hundreds of companies achieve compliance with various regulations, including NIST. Through these experiences, we've developed a streamlined process for achieving security compliance so that you can rest easy knowing compliance is taken care of.
Since the creation of CMMC regulations, we've put that experience to use helping government contractors achieve CMMC compliance.
You can read these case studies to see how we've helped other contractors achieve NIST and CMMC compliance in order to land deals with the Department of Defense (DoD):
Note: In addition to cybersecurity, you can manage all aspects of IT support with us (e.g., help desk, workflow automation). With these services, we've helped many government contractors reduce downtime and cut costs across their entire IT environment. Learn more below.
Determining the Required CMMC Level for Your Company
The first step is to determine what maturity level of cybersecurity your organization needs. The CMMC 2.0 model has three maturity levels: (1) Foundational, (2) Advanced, and (3) Expert.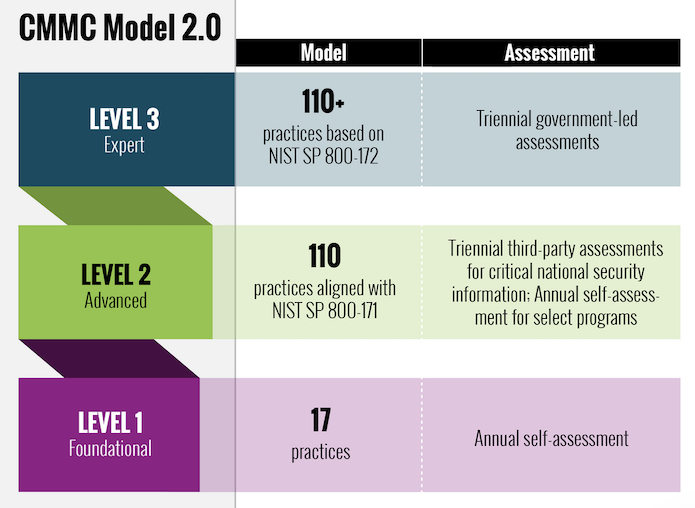 The level you need will be determined by clauses in your DoD contract and the type of information you'll be handling while working with the DoD. For example, if your contract outlines that you'll be working with Controlled Unclassified Information (CUI), you'll need to meet CMMC level 2 or CMMC level 3 requirements.
Ntiva experts can help you determine the level you need based on the types of contracts you plan to sign.
Completing the Initial Audit and Building a Roadmap
Once we've determined your overarching compliance goals, we begin the CMMC Readiness Assessment and Gap Analysis.
Our security team will evaluate (and carefully document) the policies, systems, and processes you have in place for cybersecurity. This helps us identify the cybersecurity practices you still need to implement in order to achieve compliance and areas where there's an opportunity to cut costs.
After the gap assessment, we provide a detailed roadmap for achieving compliance. The goal is to give you a clear understanding of the actions, time, and cost that will be necessary for achieving CMMC compliance.
Additionally, every proposal submitted to the DoD requires a system security plan (SSP) and a plan of action and milestones (POA&M) that outline the systems you have in place for meeting CMMC requirements and/or shows a clear plan for addressing any gaps. The roadmap we give you will follow the required SSP and POA&M guidelines.
Here's a preview of what you can expect to see on your CMMC compliance roadmap:
Implementing Changes
Most security controls and practices fall under three categories:
Technical, which deals with the software and infrastructure you have in place (e.g., whether your data is stored on physical servers or the cloud).


Policy, which deals with how your employees handle sensitive information (e.g., where and how passwords are stored).


Management, which deals with how your company manages employees in regards to IT security (e.g., training programs, who has access to what).
Ntiva handles all of this for you. We offer fully managed IT solutions for:
Data storage on the cloud or on physical servers.
Phishing prevention training.
Data backup and disaster recovery.
Identification and authentication.
And much more.
You'll have full insight into the entire process and a Project Manager (PM) who will meet with you on a recurring basis to update you on remediation progress and answer any questions.
Ongoing Compliance
CMMC compliance is an ongoing process with annual audits and that requires continuous improvements to your security program. This is another area where Ntiva can help.
Here are a few of the ongoing, fully managed security services Ntiva provides:
Endpoint detection and response (EDR): EDR replaces the need for traditional antivirus software. Most antivirus software will only recognize known types of malware, whereas EDR is able to detect known and unknown types of cyber threats using machine learning and AI.


Intrusion detection and response (IDR): IDR acts as both an incident response tool and system information and event management (SIEM) tool. IDR identifies all the types of logs and devices that you have, physical and virtual, and uses that information to monitor your entire network for security purposes.


24/7 security operations center (SOC): Whenever EDR or IDR detect suspicious activity, our SOC team is notified. They interrupt and respond to these alerts and search for any additional undetected suspicious activity.


System patches and updates: Many of the security measures we put in place for CMMC compliance will require periodic updates. Not only do we handle these for you, but we also schedule them whenever it's least likely to disrupt your operations.


Third-party assessments and audit preparation: Levels 2 and 3 of the CMMC model require annual third-party CMMC assessments by a C3PAO provider. To prepare for these assessments, it's important to conduct a pre-assessment with a CMMC registered provider organization (RPO), like Ntiva. A pre-assessment will help you save time and money in the long run by helping ensure you're ready for the official assessment. Plus, whenever the DoD releases new requirements, Ntiva will help you implement new security measures so that you're always ready for official CMMC audits.
Beyond CMMC Compliance Services
Many government contractors end up partnering with different IT service providers for general IT needs and CMMC compliance. This is because many IT support companies that offer services—such as a 24/7 help desk or cloud migration—aren't CMMC compliance experts. And, many CMMC experts who focus solely on compliance consulting or IT security don't offer services for day-to-day IT needs.
Ntiva is an expert in achieving CMMC compliance while also offering a wide range of general IT features and services, including:
Certified Apple support
Advanced Microsoft support
Cloud solutions
Onsite support
Server administration and management
Backup and disaster recovery
IT procurement
Application development
Book a consultation to learn how Ntiva's CMMC consulting and support can help you find the fastest, most cost-effective path to CMMC compliance.
CMMC Compliance FAQ
What is CMMC?
The Cybersecurity Maturity Model Certification (CMMC) model was designed to safeguard Federal Contract Information (FCI) and Controlled Unclassified Information (CUI) and hold government contractors accountable for cybersecurity.
Previously, compliance requirements were built on the honor's system (as outlined by various DFARS clauses). CMMC certifications are a way for the DoD to enforce specific security standards (although CMMC level 1 still only requires annual self-assessments).
Who needs to be CMMC compliant?
Nearly all DoD contractors and subcontractors will need to be CMMC compliant.
Is CMMC replacing NIST SP 800-171?
Yes, the CMMC model will be replacing NIST SP 800-171. However, NIST (and ISO) requirements are used as resources to define and describe CMMC requirements.
When will CMMC be enforced?
After the DoD has completed the rulemaking process, they will begin enforcing CMMC. Audits will likely begin in the second or third quarter of this year (2023). We recommend beginning the compliance process as soon as possible or at least six months before you need to be compliant.
Want to learn more about IT Risk Management Services for your business? See Ntiva's Governance, Risk and Compliance Management Services.