The way we worked changed dramatically and abruptly in the spring of 2020. As the global workforce sheltered in place due to COVID-19, remote working went from roughly 30% of employees working from home "some of the time" to 100% working remotely in many industries.
In 2021 and beyond, we expect working from home will become the new normal for the majority of office workers.
Of course, the trend to remote work has been in place for awhile.
As data and applications moved from on-premises to cloud services, businesses of all types pushed aggressively to reap the benefits of the mobile and remote workforce.
Companies who had been slow in coming to grips with the technical and policy complexities of supporting their mobile workforce found themselves playing catch-up when the world quickly shifted to remote work due to the pandemic.
Most analysts are now predicting 25-30% of the workforce will remain working from home even after restrictions are lifted and workers start returning to the office.
While there are certainly challenges to having most of your workforce work remotely, there are also benefits!
Let's look at both the benefits and the challenges of this new way of working.
The Top 3 Benefits to Remote Working
1. Cost Savings - Enabling employees to work remotely can lead to significant savings. According to Inc. Magazine companies saved an estimated $5 billion in 2018 alone from letting employees work from home part-time.
For many companies, downsizing office facilities and replacing dedicated workspaces with touchdown areas can have a significant impact on the bottom line.
Remote working can also lower travel costs, particularly if the workforce is equipped with flexible, easy-to-use video and conferencing capabilities.
Replacing air and land travel with browser-based meetings reduces both travel time and operational expenses. We've all watched the incredible take off of collaboration platforms such as Microsoft Teams and Zoom!
2. Employee Satisfaction - The workplace is undergoing tremendous change in terms of both demographics and attitudes. According to Deloitte, Millennials and Gen Z already account for 59% of today's workforce, with an estimated increase to 75% by 2025.
This younger cohort has very different needs and expectations from those of their predecessors, particularly as it relates to technology. Research firm Penn Schoen Berland found that 42% of millennials stated they would leave a company due to substandard technology, and almost 75% of Millennials (according to Deloitte) believe that a 'work from home' or 'work remotely' policy is important.
There's a significant cost-benefit to keeping this mobile generation happy at work.
According to Forrester, a 10% increase in employee turnover can reduce total workforce productivity by 40% and an organization's financial performance by 26%.
3. Productivity - A two-year Stanford University study found a productivity jump among telecommuters equivalent to a full workday per week. Eliminating commute times can give employees back hours every day, and remote working reduces absenteeism due to weather, family issues, and illness.
Unscheduled absences cost U.S. employers an estimated $3,600 a year per employee!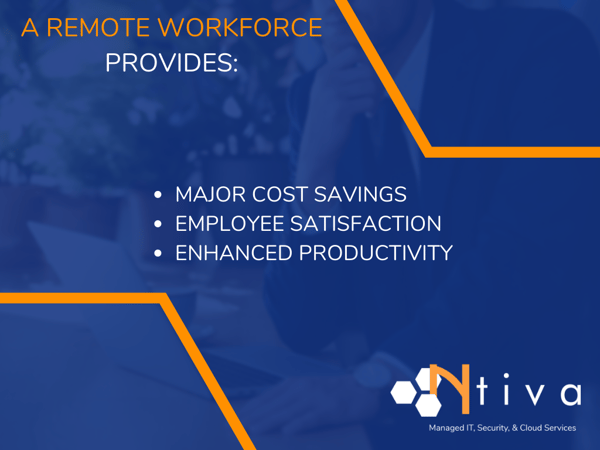 Top Challenge for Remote Workers: Cybersecurity Protection

One of biggest risks that needs to be addressed is remote worker security, which was a huge stumbling block when it came to the sudden shift to working from home we experienced in March.
Never one to miss an opportunity, hackers ramped up their organizations to spread malware via Covid19-themed emails, apps, websites and social media.
Covid-related phishing attacks are up by 667% since the end of February 2020.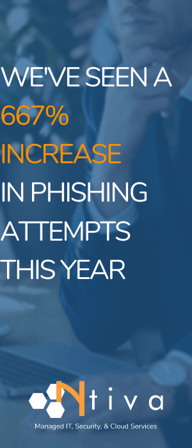 Why are remote workers and mobile infrastructure so vulnerable?
There are several factors:
Unsecured Networks - While public workspaces such as coffee shops were almost impossible to secure, many home workers weren't much better off. Home networks are often unsecure, which can be a hackers delight. While some organizations had VPNs in place, many others were caught unprepared.
Device security - Keeping personal devices such as laptops, tablets and smartphones updated with the latest application and security patches was already a burden for most companies. While many had company-issued computers that workers could take home, others did not. This meant workers were accessing corporate networks and sensitive data from potentially out-of-date home computers, opening up huge security holes.
Lack of user training - Mobile and home workers often have a limited understanding of their roles and responsibilities in protecting corporate data assets. This lack of knowledge leaves them vulnerable to phishing schemes and other social engineering attacks.
Now that we've explored some risks, what are some of the measures you can put in place to help combat them?
Centralizing Data Helps Counter the Remote Threat

One of the most effective ways to secure your business data is to store and secure that data centrally.
Centralizing data in a secure environment, combined with strict policies and remote access control, makes it much more difficult for cybercriminals to access and steal sensitive company information.
For smaller organizations, this could be as simple as employing Microsoft's Office 365. This solution stores data in Microsoft's highly-secure cloud infrastructure, and both benefit from continual software updates, security patches, and robust real-time monitoring.
Larger companies with more complex requirements may look to data center hosting to secure their applications and information. Hosted data center solutions can securely house storage, networking, and other equipment, while also managing security and hardware upgrades on a company's behalf.
A hosted solution often requires limited or no capital investment from the customer.
Consider Desktop as a Service for Added Security

To secure data and applications even further, some companies may choose to employ Desktop as a Service (DaaS).
DaaS is a cloud-based solution that consolidates all applications and data on to a centralized hub that is managed by a third-party provider.

Remote workers log in to this central hub using remote desktop software installed on their laptop, tablet, or smartphone. Users have designated access to applications and data, but no data resides on the user devices.
Aside from the enhanced security, DaaS solutions provide other business benefits, including:
Predictable Monthly Costs - DaaS is priced on a per-user basis, so customers only pay for what they use as employee headcount goes up or down.
Fully Redundant Backups - With DaaS, ongoing, redundant backups ensure that data is never lost.
Easily Managed File Structures - Most businesses have sensitive files that should be accessible to only certain employees. With DaaS, these files are stored in the cloud with customizable permissions that are maintained and thoroughly tested by the DaaS service provider.
Anywhere Access - Employees can access files and applications from almost anywhere, and from any device, through a secure connection.
Enhanced Support - DaaS providers typically provide 24/7/365 help desk access as part of the overall service offering.
Building the Remote Work Infrastructure: Top 3 Considerations
There are several considerations when establishing a remote work infrastructure, including:
1. Hardware and Software
Many organizations provide their employees with 'standardized' devices — laptops, tablets, and smartphones — that are loaded with pre-installed applications. These may include standardized productivity apps, built-in encryption for hard drive security, firewalls, and password manager software.
Generally, these applications can be centrally managed, allowing for updates and security patches to be pushed to devices over the network.
However, if your employees are using personal devices to access work data and applications, you need to figure out how to manage that risk.
Many businesses choose to employ browser-based applications or a Virtual Desktop Infrastructure (VDI) that store data securely in the cloud, not on employee-owned devices.
2. Employee Policies
Well-defined 'Work From Home' and Bring Your Own Device (BYOD) best practices are must-haves for companies with mobile or remote workers.
The Work From Home policy defines who is allowed to work remotely and what procedures they must follow to protect sensitive company data and assets. Some examples of procedures that should be included in the policy are:
The process for approving remote working
The specific responsibilities of remote employees
Steps that each user must take to secure their mobile devices or workspace
The use of encryption to protect data being transferred over the network and stored on devices
Mandatory use of VPN for all remote workers
How to identify potential security breaches and report incident
A corporate BYOD policy serves a similar purpose — it establishes which employee-owned devices and software are permitted and how those devices will interact with the organization's network and data. Here are examples of what the BYOD policy should include:
What devices and what versions of software are allowed
What applications are supported (e.g., office apps and productivity platforms)
Defines password formats
How data will be shared and through which platforms
How security will be implemented and maintained on employee devices
What happens when an employee leaves the organization? How will data be removed from all devices?
3. Training and Communications
Employees are the first line of defense for preventing cyberattacks and protecting corporate data. Getting full employee buy-in for remote working is critical.
Initial policy training should be mandatory for all employees, and part of the new hire onboarding process. Organizations should also provide refresher training on a regular (at least annual) basis.
While clear, well-communicated policies for remote and BYOD workers won't prevent all cyberattacks and data loss, they are an integral part of the overall security strategy to protect the business and its most sensitive digital assets.
How To Manage Your Remote Workers Securely And At Lower Cost

While the benefits of a remote workforce are compelling, building a secure, efficient remote infrastructure is no small task. And, as hackers and cybercriminals become more sophisticated and attacks become more frequent, maintaining that infrastructure is a never-ending burden.
That's why many businesses elect to outsource the creation and management of their network infrastructure to a Managed Service Provider. Outsourcing allows these organizations to minimize capital spending, while getting access to a deep bench of technical expertise.
You might also consider getting third party advice from a qualified IT consultant who can come in on a one-time basis, perform an audit, and provide you with a report on best recommendations.
Need more details on how to secure your remote workers? Visit our remote working resource page which provides more information to help you on your journey!