With our sudden shift to remote working, it's important to get all employees on a single communication platform. It's incredibly inefficient if everyone is using different apps and services - and cause also pose a security risk!
At Ntiva, Microsoft Teams is our go-to collaboration tool, included in our Microsoft 365 for Business subscription.
But even if you don't have a Microsoft 365 subscription, you can still get a free version of Teams.
While not as feature-packed as the full version, it still allows for basic secure communication with 10 GB of file storage, unlimited text chat and video conferencing for up to 300 users - can't beat that!
As remote work is still the only choice for many of us, we all need a single place to meet with our distributed colleagues.
This should include the ability to not only see each other over video in group settings, but share screens in real-time, send quick chat messages and even store files for easy and quick access.
There are many collaboration platforms out there that you can jump on, but many of them are painfully un-secure, which is why we recommend Microsoft Teams.
If you already have Microsoft 365, you've probably played around with Teams.
You'll also be familiar with the benefits of everyone keeping their work in the same place, with OneDrive and Sharepoint.
Teams will offer you even more ways to store and share content to keep your remote staff organized and productive - but let's start with some of the basics.
From Chat to Instant Audio and Video Calling
Once your Teams application is installed, you can start by clicking on the Chat icon on the left hand side navigation bar. Across the top you'll see a large Search bar - just type in the name of any colleague and you can begin your chat session.
During the chat session, if typing short messages to each other just isn't enough, you can easily escalate to an audio or video call using the icons along the bottom, as well as send and share content (more on that below.)
Want to add another colleague to your chat session? On the top right hand side of the window you'll see a small icon representing two people and a plus sign. If you click on this, you can add in additional colleagues for a group chat.
Adding in Colleagues For a Group Chat Session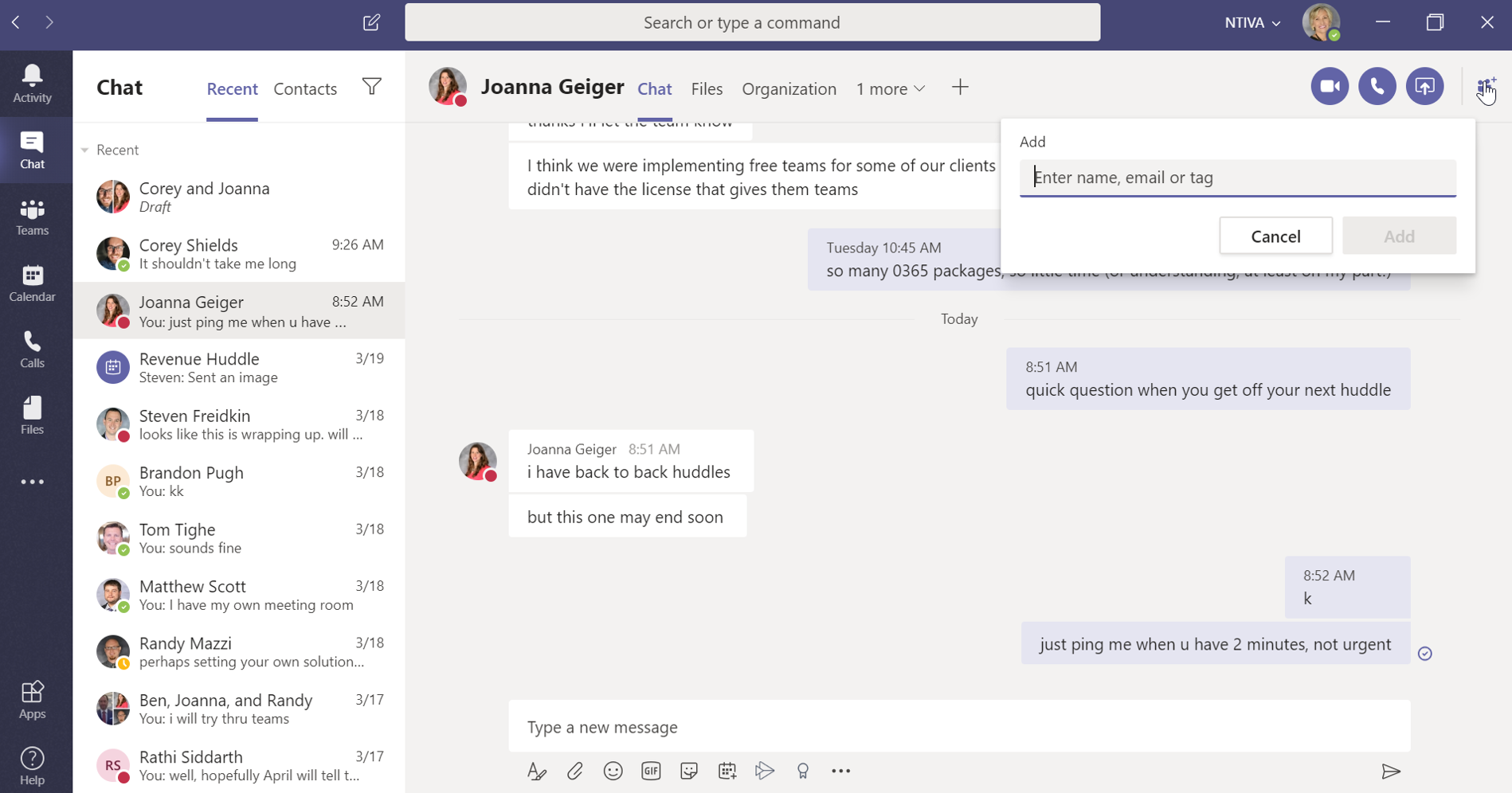 If you're not in a chat session, there is another easy way to start an instant audio or video call. Just click on the Call icon in the left hand side nav bar. You can find a colleague quickly with the search bar, and then choose to start an audio or video call. Just make sure your audio settings are configured correctly!
In the call section, you'll also be able to add speed dials, see your call history, and even utilize the voicemail feature. You literally could use Teams for all of your communication needs.
And with mobile options for iOS and Android, you can also take Teams with you on the go. Just make sure you've got the right work-life balance on that mobile device, everyone needs a mental breather these days.
Using the Call Section to Start Audio and Video Calls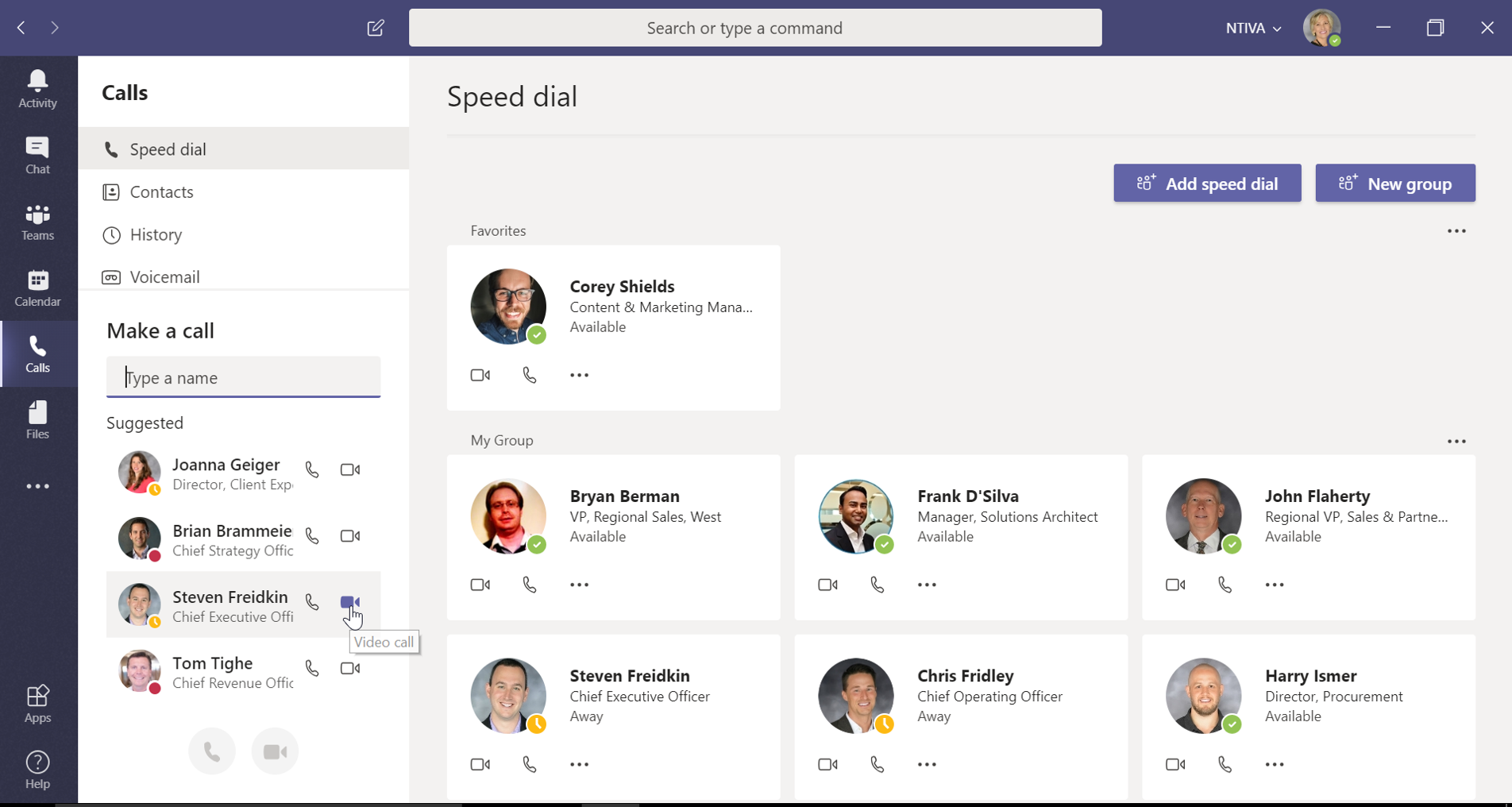 Sharing Content With Teams
Teams make it easy to quickly share content with your colleagues.
While in a chat session, you can send a file by clicking on the paperclip icon that you'll see at the bottom. This can be a file that is on your desktop, or if you have an Office 365 subscription, you can send files directly from OneDrive.
You can also use the Files icon in the left hand nav bar. Once in the Files section, you can not only access files from your computer and OneDrive, but you'll see options to access all the downloads you've done when in Teams as well as the most recent files you've been accessing.
Accessing Files Stored in Teams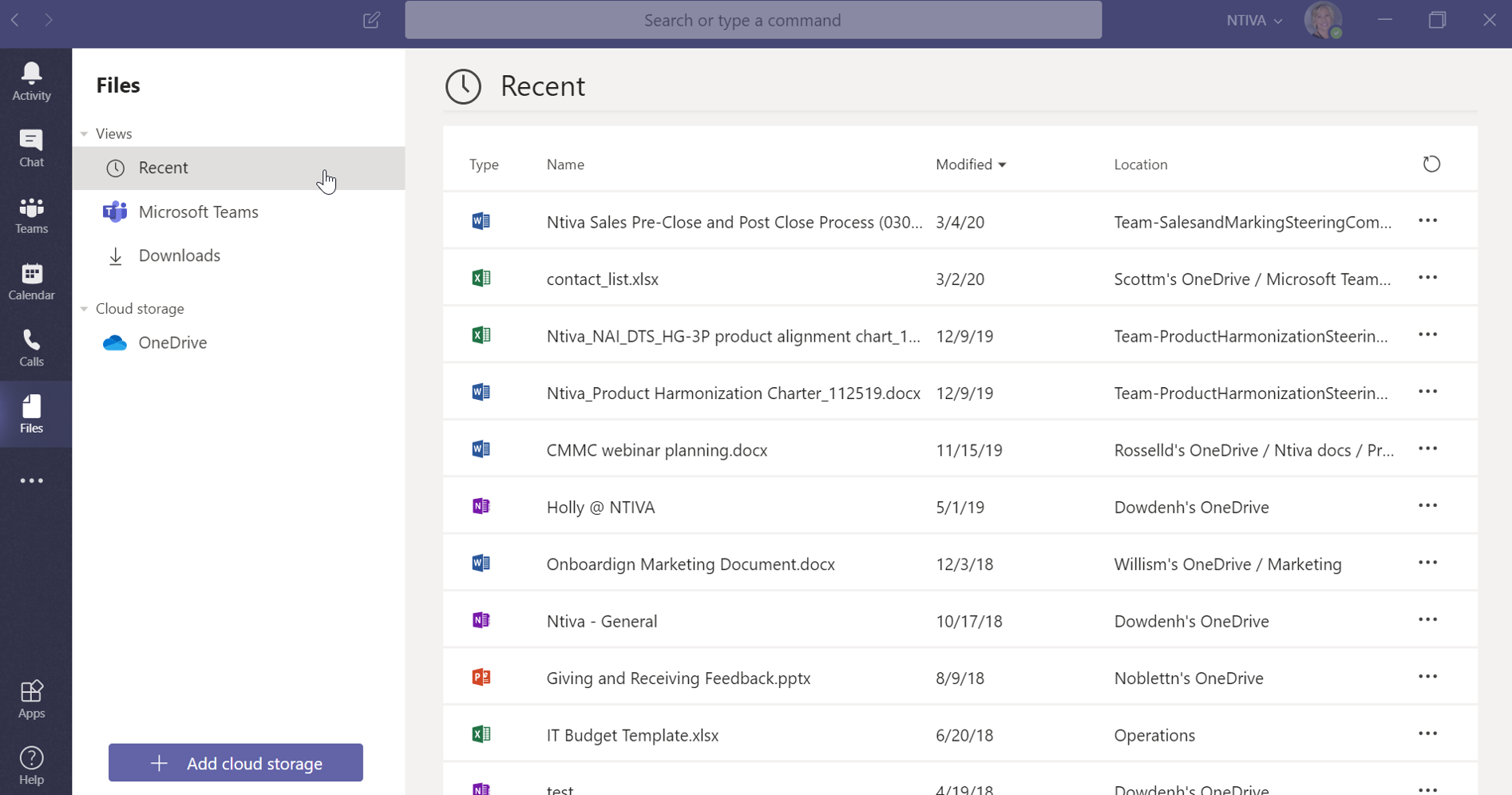 No more emailing attachments and waiting around for a reply. You can even send your colleague a link to the document, and open it together to collaborate in real-time.
Note that file transfers are incredibly fast. Send any document or Office file in seconds. Even high-res photos and videos transfer faster than any browser download you've experienced.
And last but not least, with an ever-growing list of third-party app integrations Teams is making sure that you can send just about anything without ever leaving your chat window. From workflows in Polly to social media management in Hootsuite, everyone can access the information they need together in Teams
Using The Teams Calendar Function
Without your Outlook calendar, you'd be lost, right?
Microsoft Outlook syncs to all of your devices, and you use it to plan out your entire work life. With Teams, your Outlook calendar is always accessible on the left side navigation pane without leaving the app.
You can modify existing events and schedule new ones with all the ease and customization you're used to with Outlook. View attendees and those who decline, event details, and if applicable, edit the entire series of recurring meetings straight from Teams.
While not necessarily a game changer, the simplicity of having something as useful as your calendar directly inside your messaging software allows for easier planning among you and your co-workers.
Note that you can also start an Instant Meeting in Teams from the Calendar.
Once in the calendar, you'll see a Meet Now button in the upper right hand corner. Just click on that to start an instant meeting and hit the purple Join button. You will then be able to select the colleagues you want to join your instant meeting.
Starting An Instant meeting From the Calendar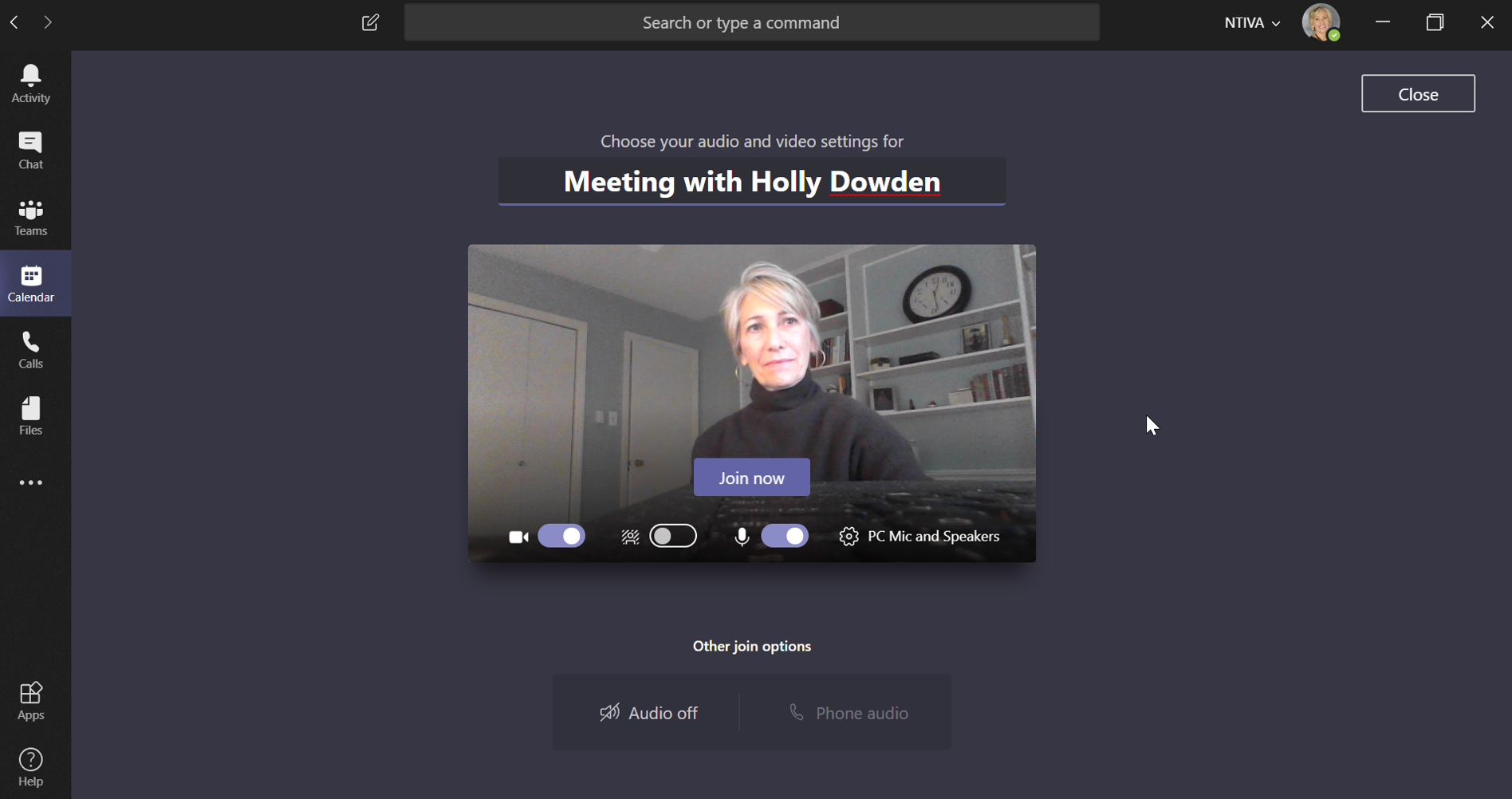 Editor's Tip: Blur Your Background!
Not all of us who work from home have snazzy home offices, not to mention kids, dogs and significant others who many wander in at unexpected times.
Teams has a cool feature you can use to blur your background while on those team video calls.
While in the call, simply click on the "three dots" icon which will pop up a menu with extra options. You will see "blur background" along with many other features!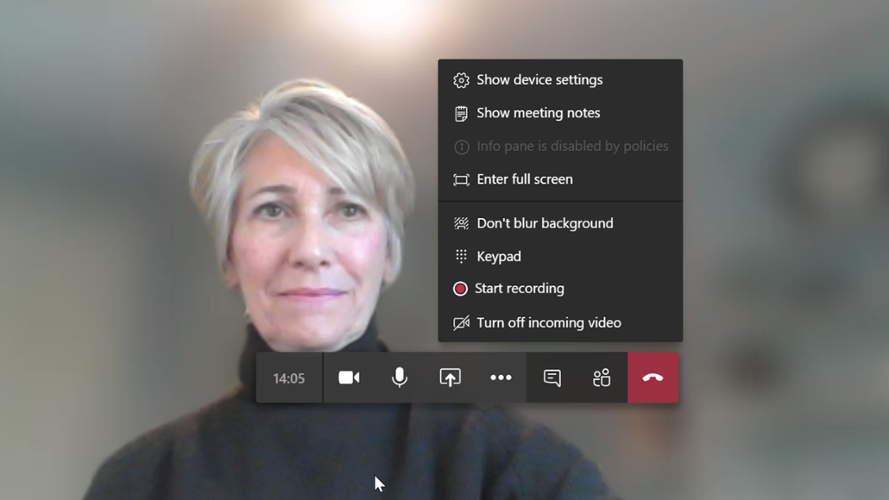 Creating Teams and Channels
Another important function in Teams is the ability to create work groups (or teams, as they're called) and channels. Note that this functionality is only available if you have Office 365.
The "teams" function is basically a collection of people, content and tools that surround different projects. They can be made private for specific users only, or open to anyone in the organization. It's a great way to store all of your living documents in one place for your on-going projects.
"Channels" are dedicated sections with a team to keep conversations organized by specific topics or projects - whatever works for your team. Again, you can configure the channels to be private or open.
Using teams and channels can be as simple or as complicated as you want. Most people simply use the function to set up a "team" for a specific project, so there is one place to go see posts, access documents and more. Note that you will need to set up specific permissions to utilize some of the functions in teams and channels.
If you're interested in learning more, you can watch the video below or speak to your Microsoft administrator or IT Service Provider for more guidance.
A New Way of Working With Teams
As more of us become remote workers, our businesses need a solid and proven digital solution that can act as a central hub for everyone. With access to everyone at all times, but also private groups for your direct staff, Teams really does feel like a digital "office!"
Knowing exactly where your entire organization's files are, along with quick access to share and collaborate the content with colleagues, is a huge benefit for remote teams. If you're using Office 365 Sharepoint and OneDrive, you will also benefit from redundant data backups, another critical feature.
Just like any other application, it helps to have the experts just a phone call or email away to assist with implementation, management or with any challenges that might arise.
If you're having trouble with remote collaboration and need help assessing what's best for your organization, reach out to us. Our experts have years of experience with Microsoft Teams and many other collaboration applications.

Want to learn more about Microsoft IT Support for your business? See Ntiva's Microsoft IT Support Services.
Managed Services for Microsoft 365
Microsoft OneDrive IT Services
Microsoft Sharepoint IT Services