An effective IT strategy helps enterprises achieve their longer-term vision.
In our role as IT consultants for a wide range of businesses , we've seen a big increase in spend on business applications — from business intelligence and demand forecast to marketing, customer support, and logistics.
These requests are often being driven from individual business units, who might well have the need for new software, but who might also lack the bigger picture.
Table of Contents:
Unfortunately, many IT departments are so overwhelmed they tend to work re-actively, and all sorts of initiatives are approved a little too quickly. The tendency is to execute on ad-hoc projects with short-term objectives, rather than proactively steering the strategic use of technology within the company.
Now that enterprises are dealing with more IT initiatives than ever, such a reactive approach is at best ineffective and at worst detrimental to growth.
Instead, there should be a comprehensive IT strategy to guide the different projects, providing a holistic and long-term vision to the organization's technological needs.
What is an IT Strategy?

An IT strategy is simply a detailed set of documentation that encompass the company's vision and strategic planning for Information Technology.
This would include budgeting, strategy documents, and operating models for the future state of the company's technology architecture.
You need to be sure that the strategic planning process includes representatives from every department, and ideally should be led by your Chief Information Officer (CIO) or outsourced to a virtual CIO (vCIO).
The Benefits of a Well-Designed IT Strategy
Creating an IT strategy is an organization-wide effort and it's well worth the investment. Here's why:
It provides a unifying approach to processing and sharing information across the company so you can increase efficiency, minimize duplicate work, improve collaboration, and minimize errors.


It facilitates data collection, processing, governance, and analytics. Many new technologies, such as those using AI and big data for business intelligence, require a large amount of reliable data to produce accurate insights.


It allows for a holistic and comprehensive approach to cybersecurity and gap analysis so you can effectively protect customer and employee data. This is particularly important if you're in a regulated industry and need to stay compliant with security standards.


It helps improve IT resilience that will minimize the high costs associated with extended downtime.


It allows your IT department to take a proactive role in resource allocation and project planning so decisions can be made to prioritize long-term benefits.


It helps improve communication between IT and different departmental leaders to achieve better executive alignment and stakeholder buy-in for IT initiatives, resulting in better overall business strategy and business processes.
How to Create an IT Strategy For Your Business
An IT strategy provides a framework that guides the implementation of technology solutions. Here are some essential steps in designing an effective IT strategy: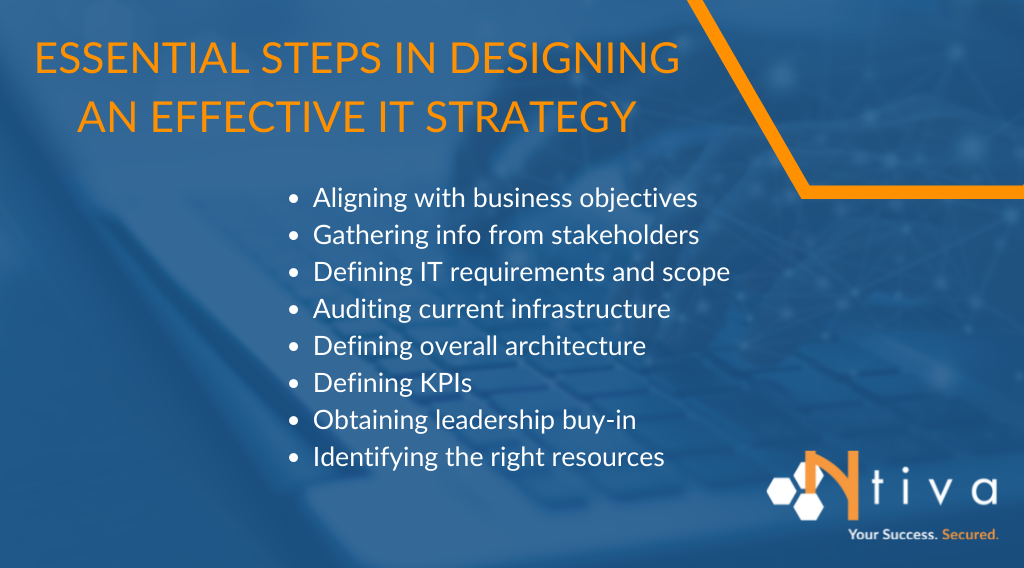 1. Alignment with Business Objectives
An effective IT strategy should address the overall business goals and needs.
The first step is therefore to understand the business objectives of each department and the entire organization, e.g., sales target, growth plan, marketing goals, new partnership opportunities, demand forecast, logistics, etc. to ensure a holistic approach that will meet the needs of all business divisions.
2. Gather Information From Key Stakeholders
In order to design a forward-thinking enterprise architecture IT strategy that addresses not only your current technological requirements but also supports the organization's future growth, you need to understand and analyze key technology trends in the industry.
You can do so by defining and communicating with key stakeholders that are responsible for different aspects of the business, e.g., through individual conversations, surveys, or group interviews.
3. Define IT Requirements and Scope
The next step is to define the requirements and timespan of your IT strategy and make sure that it addresses the objectives of each business unit and the entire organization.
While the focus of this strategy is on long-term vision and goals, you should build in key phrases and schedule in milestones so it's periodically reviewed and validated to ensure its effectiveness and relevance.
4. Audit Current Capabilities and Infrastructure
After defining the IT requirements, you need to take stock of the available infrastructure, such as the hardware in your data center, so you can identify any gap in the current capabilities and see how you can best achieve your objectives with as few disruptions and in the most cost-efficient way possible.
Don't forget to take into account the "human factor," such as how employees are actually using the current technologies, the challenges each department encounters, how each software or tool integrates into the "big picture," and the results the current systems are achieving.
5. Define Overall Architecture
Now that you have a solid understanding of where you're at and where you need to go, it's time to figure out how to get there by mapping out the IT architecture, which includes software, hardware, other tools and resources you'll need.
The overall architecture should consider department-specific technologies (e.g., to stay compliant with regulation) and how they integrate into the larger company-wide system.
6. Define KPIs
There's a saying, "what gets measured gets done." To make sure your IT strategy is taking your business where it needs to go, define a set of KPIs (key performance metrics) so you can measure its effectiveness.
Depending on the nature and focus of each component, there will be different key metrics. E.g., measurement of agility, project delivery time, customer and employee satisfaction, marketing and sales ROI, capacity utilization, service-level indicators (e.g., the number of help desk calls,) etc.
7. Obtain Leadership Buy-in and Validate Budget
After getting everyone excited about the grand plan, you need to secure support from the business leaders and executives, along with a sufficient budget to execute the strategy.
Prepare a data-driven projection on the ROI of the IT initiatives to get senior executives on board. You should also drill down to the nuts and bolts to make sure you have all the contingencies covered so you can line up the right financial support.
8. Identify the Right Resources
While most companies already have an IT team, it's typically tasked with the day-to-day maintenance of the IT systems. Resources are often stretched when the team has to tackle additional IT projects and long-term technology decisions such as digital transformation.
It's important to review your project plan with an IT managed service provider and make sure you have sufficient personnel with the right expertise to support both new IT initiatives and ongoing operations. This will give you the overall competitive advantage you need!
Your IT team is a valuable resource and has the institutional knowledge to lead your IT strategy. However, at critical stages of designing and implementing such a strategy, your team will need additional support from a consulting service, either on fine-tuning your IT strategy or off-loading the day-to-day operation so they can focus on the high-level objectives and initiatives.
Want to create an IT strategy with the support of experts? Ntiva's IT strategy consultants can help your business create a clear IT plan.
Head to our IT consulting page to learn more on how Ntiva can help provide all of the technology guidance you need to help your business continue to grow!
Want to learn more about IT Consulting Services for your business? See Ntiva's IT Consulting Services.
IT Consulting Support & Services for Businesses
Cloud and Data Migration Services
IT Strategy Consulting and Services