No matter the industry, almost every organization in the world relies on Microsoft applications to conduct their day to day work. Thanks to the creation of Microsoft 365, it's now easier than ever to use these Office apps, such as Word, Excel, and PowerPoint from anywhere using a web browser.

Let's take a look at the pros and cons of Microsoft 365 web apps, and see how they can benefit your business!
Don't want to read the article? Watch the full recording below.
Be sure to register here for the "Ntiva Lunch and Learn" webinar series!


Microsoft 365 Online Apps: Using the 365 Portal
To access your online apps, you'll need to head to portal.office.com and login with your existing Microsoft credentials. Think of this page as your "online desktop." You can customize this page to meet your daily needs.

You'll see "Quick access" at the bottom of your online portal. This section will include Recently Opened, Shared, and Favorites. I personally find these to be extremely helpful, and use them almost exclusively to access my files.
Recently Opened will contain files your most recent documents from both the online portal and your local Microsoft Office installation.
Shared has all of the files shared with you either through 365 portal permissions or through collaborative tools such as Teams or OneDrive.
Favorites, I basically treat as a second desktop. You can customize this section easily by flagging the documents you want to display, and access them with one click.
On the left hand side of the screen, you'll see quick access buttons to common applications such as Outlook, Word, Excel, and Microsoft Teams. If you click on the 9 dots at the top, you'll see the full app launcher which includes all of the software you have access to. This section is also totally customizable. Remove and reorder to your heart's content.
As you access your applications through the portal, you'll start to notice that they are very similar to their desktop counterparts. Generally speaking, all of the standard features are available in your online portal.
The main thing we notice across all portal applications is the lack of add-ins. If you've installed an add-in on your local machine, it will not be available in the portal because it isn't in the cloud. More on the differences later.
Progressive Web Applications (PWA): Making Microsoft 365 Online Feel Like Your Desktop
The key to making Microsoft 365 Online feel like your desktop is by using Progressive Web Applications (PWA). This method lets you create desktop icons and even launch at startup just like your familiar local installs!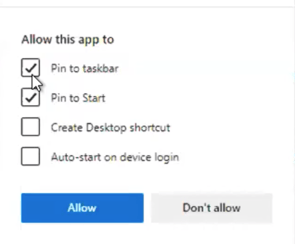 To install the PWA version of an app, simply open the software in the 365 portal. From there, click your browser Settings, then Apps, and finally Install.
One you click install, your browser will give you configuration options. These include Pin to taskbar, Pin to Start, Create Desktop shortcut, and Auto-start on device login.
You can use PWA for all of the 365 apps you have, including Excel, Word, and PowerPoint. I love PWAs because they are fast, lightweight, and while they are missing some of the deeper functionality, they provide you with an experience comparable to the local installations you're used to.
Microsoft Edge and Microsoft 365: A Perfect Match
There is one bonus feature in Microsoft Edge that makes the 365 portal even better: The side browser.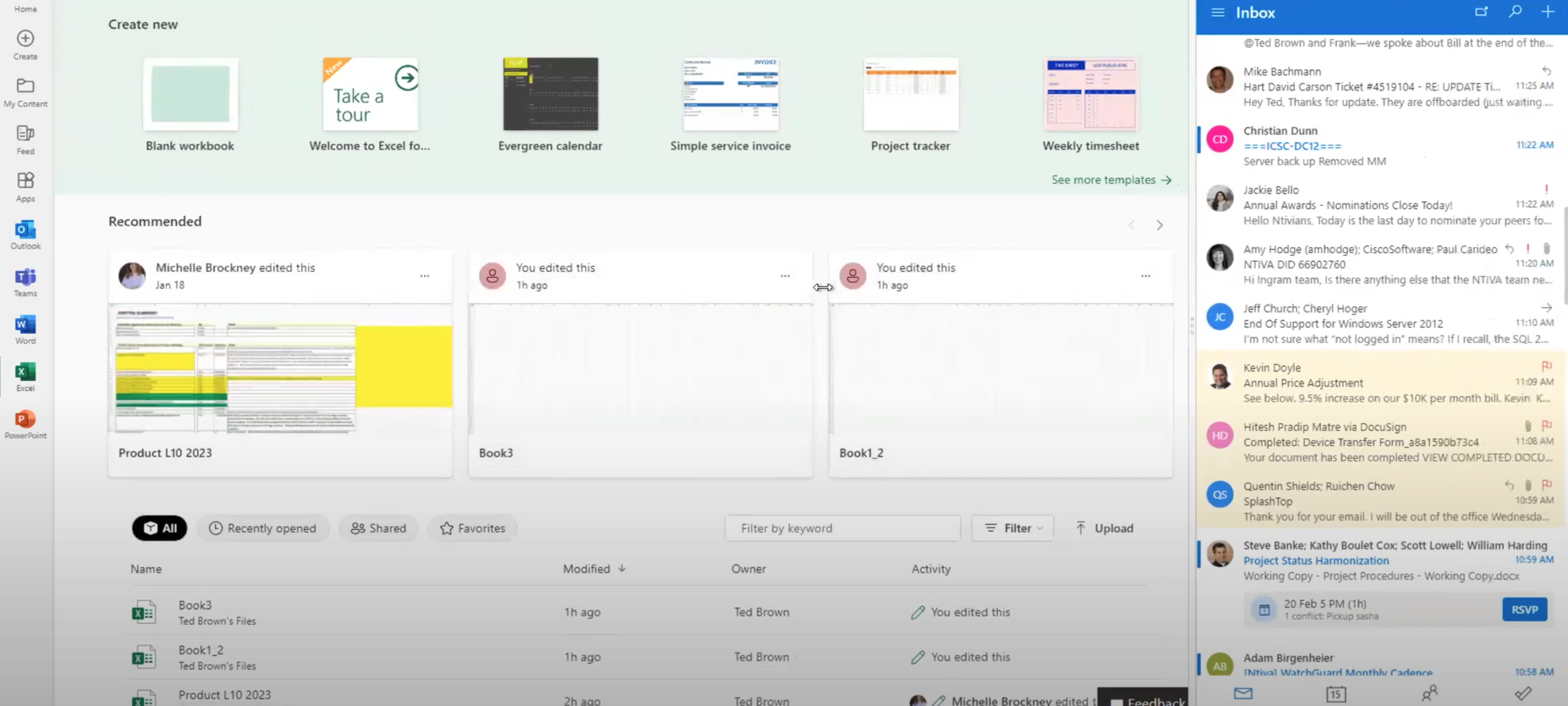 The side browser in Edge allows you to create shortcuts to your 365 apps, and run them simultaneously through screen splitting. This means you can have Excel and Outlook running at the same time in one browser window. I find it especially useful when I'm working from a single monitor.
The side browser window can be customized to any size and can run any 365 app. I always recommend trying this out, especially for those who have a Windows-based machine with the Edge browser already installed.
Microsoft 365 Online Portal: The Limitations
There are some limitations to consider when you're thinking about moving your business to the 365 online app model.
Internet Connectivity
This is a simple one, but it's easy to overlook. If your business has poor internet connectivity or has some employees who have slow or unreliable connections, this will be a problem. Your 365 access relies entirely on your internet connection.
OneDrive or SharePoint Utilization
While this isn't a "limitation" per se, it's definitely something to consider. Your entire organization is going to need to adjust to utilizing OneDrive or SharePoint cloud storage.
Gone are the days of simply saving a file to your desktop. You'll need to train your team to utilize SharePoint and OneDrive instead of simply saving to their local My Documents folder. The tradeoff for this hurdle is that everyone will be able to create, edit, and share files easily in real time across the globe! This is an easy process, but it can take some time to adjust!
Varying File Size Limits
This is an important limitation for any business handling truly large files. Excel Online has a 24 MB limit for viewing and editing. PowerPoint Online has a 300 MB limit. Word Online has a 100 MB limit.
These are large file sizes, certainly above the normal day-to-day documents for most, but there are some who simply can't use 365 Online because of this limitation. Don't be discouraged, though! Remember that you can segment your 365 licensing, so if large documents are only utilized by certain departments or team members, they can have upgraded licenses while the rest use 365 Online!
Limited File Type Support
Certain file types can't be edited in 365 Online. This includes .CSV files in Excel and the old .doc filetype in Word. You can store save, view, and share these files types, but if you try to edit them, your portal will alert you that you must convert the files before editing.
Macros
Macros can't run or be modified in the online editions of 365. These must be configured and run from the locally installed versions.
Software-Specific Limitations
In general, the software-specific limitations of the online applications are advanced features that only a small subset of users will actually notice, but in the interest of transparency, we've created a list of the noticeable limitations of each program.
Word Online
No rulers or gridlines
No captions
No autotext, cover pages, table of contents, or watermarks
No advanced data integration like mail merge
No page borders or line numbers
No custom dictionary or translation tools
No online video embedding
No inserting shapes or charts
Excel Online
No recommended charts and smart formatting
No chart animations
No advanced analysis views using Power Pivot, Slicers, and Power View
No creation of named ranges
No find and replace feature
No creations of macros with VBA
No creating or editing 3D charts
No "what if" analysis tool
PowerPoint Online
Limited animations and transitions
No rich formatting for text, shapes, or pictures
No modifying themes
No advanced design features like layout modification or slide masters
No headers and footers
No Excel chart integration
No presenter view
No review tools like merge conflicts and compare presentations
Keep in mind that these applications are being updated constantly, and new features continue to appear month after month. I wouldn't be surprised to see this list shrink to just a few items over the next year!
You simply have to ask yourself, can your team live with these limitations in exchange for the huge cost savings of 365 online licensing? Speaking of which, let's take a deeper dive into the licensing cost breakdown!
Saving Money with Office 365 Online
Time and time again, we've seen organizations save THOUSANDS of dollars per year with Office 365 Online. If you don't need the locally installed applications for your team, you'd be amazed at how much you can save.
Take for example, an organization of less than 300 users. The "Business Basic" licensing is $6 per user/month. This is compared to $12.50 per month for "Business Standard." Basic includes all of the same apps and functionalities as Standard, such as Teams, SharePoint, and Exchange, but without the locally installed applications.
The only functionality you're losing for that $6.50 per month savings is the ability to locally install the applications.
Organizations with more than 300 users will have to use the enterprise licensing, which is more expensive overall. In this case, the E1 licensing which contains only the online versions is $10 per user/month. E3 licensing, containing the full local installs, will run $23 per month. That $13 savings per month adds up to over $46,000 per year for a 300 person organization!
Also keep in mind, this doesn't have to be a blanket decision for your entire company. Maybe a few users in each department need the full local applications, and the rest can use the Business Basic or E1 licensing. 365 can be easily customized to meet your exact needs!
Are You Getting the Most out of Your Microsoft 365 Subscription?
Worried you're paying to much for your Microsoft subscription? Maybe you're concerned about getting the best Microsoft IT support for your organization. Reach out to us and see if you're really getting the best bang for your buck!