Cyber attackers will do whatever it takes to hack into a vulnerable network, and no amount of firewall protection or anti-virus software can completely guarantee security. Because of this, one of the most important aspects of cyber security is being able to detect a threat before it sets in and causes irreversible damage, with intrusion detection systems.
But the truth is that threat detection isn't that easy, especially since networks can be infiltrated in a variety of ways.
The solution is to invest in a top of the line Intrusion Detection System so that you can discover threats before they wreak havoc on your network and render it useless.
What is an Intrusion Detection System (IDS)?

An Intrusion Detection System (IDS) is a comprehensive solution consisting of automated software and security experts that monitor a network for any possible threats or unwanted access. An IDS is usually just one aspect of a larger security system, but it plays an essential role in protecting a network.
Think of it this way… As more devices are introduced into an organization's network - like smartphones, tablets, and USBs - the entire system becomes less secure, and the potential for threats increases. Firewalls and anti-virus software are no longer enough to defend against sneaky tactics like spear phishing and ransomware.
In addition to the traditional security measures like firewalls and anti-malware, multiple layers of security need to be introduced - and an IDS is one of these layers.
The general gist of an IDS is to actively monitor the network for signs of abnormal activity so that appropriate steps can be taken when there's a breach in security. In most cases, IDS combines authentication and authorization to combat potential intrusions.
A solid IDS is not only focused on threat monitoring, but also on identifying the threat and coming up with a well-thought-out solution for handling it.
What Types of IDS Solutions Are There?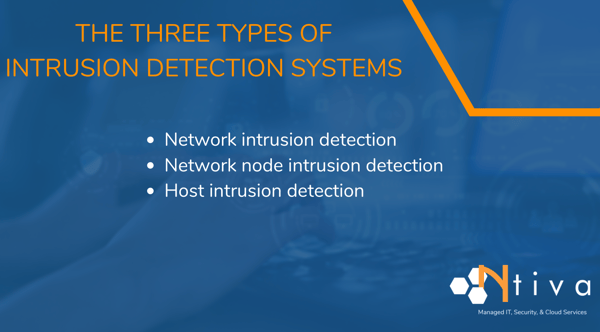 Every organization's cybersecurity needs vary based on the number of employees, the type of data handled, and the technology being utilized. Considering these factors will play a role in deciding on the type of IDS that you'll benefit from most.
Generally speaking, there are 3 different strategies for detecting intruders on a network:
Network Intrusion

Network Node Intrusion

Host Intrusion
Some organizations turn to only one of these types of detection, but the most advanced systems utilize all three.
Network Intrusion Detection
A Network Intrusion Detection System works by strategically focusing on certain points throughout the network, which are also known as subnetworks. It basically just works by monitoring points on the dedicated subnets that are prone to the highest volumes of traffic.
The reason that NID systems cover the high-traffic areas of a network is that these tend to be the areas that are most vulnerable to an attack. The perk of using NID is that this system is difficult for intruders to detect, so they don't often know that they're being monitored.
The flaw is that this type of IDS is more likely to miss an attack since it's monitoring a heavy amount of traffic across the network.
Network Node Intrusion Detection
The process of Network Node Intrusion Detection is exactly like NID, but with one major difference. While a NID system focuses on monitoring traffic within an entire subnetwork, an NNID system only focuses on one host at a time.
Host Intrusion Detection
This last one is the most advanced type of IDS. A Host Intrusion Detection System is applied to every single device within a network. HID is capable of closely monitoring all levels of internal traffic; it doesn't just focus on specific subnetworks or nodes within a subnet.
This method obviously comes with a lot of advantages over the other two. It's capable of looking at all files within the network, taking "snapshots" of these files, and seeking out any abnormal activity that doesn't match up with the regular snapshots.
When any abnormal or malicious activity is detected, this system immediately sends out an alert to the admin or IT team members. The reason it's called Host Intrusion Detection is that it mainly utilizes host-based files and apps to determine if there's any fishy activity or traffic.
How Does an IDS Work?

We've fully covered the types of detection, but you're probably still wondering how? The answer depends on the specific approach that an IDS has taken, and whether it's signature-based or anomaly-based.
With signature-based detection, which is the most common approach, the system focuses on the "signature" of an intrusion. It searches for the specific features of current cyber threats, so regular updates are crucial for this approach to work effectively.
The anomaly-based approach is much more foolproof since it uses advanced machine learning techniques to get in the heads of cyber attackers. It's capable of staying on top of the changing cyber threats of our time, and it can quickly differentiate anomalies from usual traffic patterns.
Advantages of Investing in Intrusion Detection
It doesn't matter if you're part of a major corporation or you're trying to protect your small business, intrusion detection can serve you in more ways than one.
IDS Stops Attackers in Their Tracks
The entire point of IDS is to detect intruders immediately so that hackers can be put in their place - which is not within your network's walls. An organization with a mature intrusion detection solution can detect attacks in real-time, stopping hackers in their tracks.
IDS Generates Trust with Clients
Every organization handles data in some form or another, and a lot of this information is directly linked to clients and customers. With IDS, it's not just the members of the business that can rest easy knowing that information is safe, but also the clients.
IDS Helps Companies Meet Industry Compliance Standards
Every industry has its own unique set of compliance regulations for handling information. Whether you're concerned about patient information and HIPAA or meeting PCI compliance with credit card payments, IDS can help you to meet (and exceed) all of your industry's information rules.
Intrusion Detection is Just One Piece of the Puzzle
So your IDS has detected an abnormality in the network, what comes next? Well, the obvious next step is to respond to this intrusion, which is where Ntiva can help. Our Intrusion Detection and Response (IDR) plan is a 3-layer solution that focuses on monitoring and identifying threats, then remedying them as quickly as possible.
The reason our intrusion response system is so successful is because we take it way beyond simple automation. Many IDS options available today are completely automated, but NTIVA realizes that this isn't enough to keep intelligent hackers from infiltrating an organization.
In addition to state-of-the-art automation, Ntiva's IDR has seasoned IT security experts working around the clock to look into any security alerts that have been detected. To top it off, these alerts are then passed on to skilled technicians who are trained in solving security issues without affecting normal business operations.
The other perk of choosing Ntiva as your IDS solution is that we believe in delivering affordable cybersecurity plans. If you're on board with boosting security through Intrusion Detection and Response with Ntiva, learn more about all of our cyber security offerings below!