It's safe to say that no business was left untouched by the COVID-19 pandemic of 2020. However, some were hurt worse than others. This article shares how Ntiva helped a small business save money and become more efficient when they moved to a remote work environment.
While there are several large government contracting businesses across the country, the majority are fairly small and rely on a few large contracts to survive year to year.
The pandemic forced many of these smaller operations to find new ways to survive, adjusting budgets and expenses to cope with delayed contracts and shifting responsibilities.
Today's story is just that; how we helped a government contractor adjust to a remote working environment and save money in their daily operations, saving them from what could have been the end of their business altogether.
How to Save Money on Technology When Your Business Goes Remote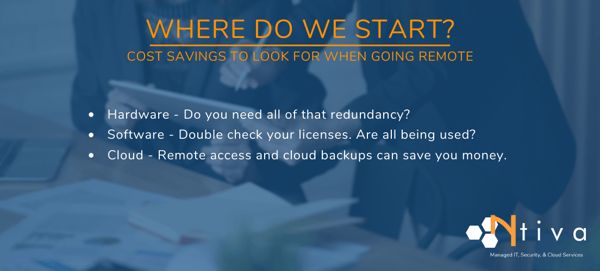 There are obvious savings when moving to a remote working model, such as the lower overhead thanks to a lack of a physical location.
But from a technology perspective, there's also money to be saved in items such as software licensing, outdated hardware, and other unnecessary redundancies.
If you take the time and have the expertise to do a thorough audit of your IT environment, you'll find plenty of ways to trim costs.
Below you'll find all the details behind the three key ways we helped our small government contractor client save money in order to keep their doors open through the pandemic and beyond.
Three Ways We Helped This Small Business Trim Costs with Remote Working
Step 1: We Started with the Hardware

Our new client had a major problem on their hands.
Their on-premise servers were running the Microsoft Server 2008 operating system, which for starters posed compliance issues for any company that sells into the federal government, including NIST and CMMC.
This had to be remedied by our service team immediately.
After resolving the operating system issue, we recommended a hardware infrastructure overhaul because we noticed hardware redundancies that were costing the company unnecessary dollars.

We stopped a session host, consolidated a domain controller, and disabled their outdated backup system, saving the company hundreds in monthly expenses.
The owners were surprise to learn that newer, cloud-based back up solutions are actually less expensive, and just how little on-premise hardware is actually needed for a fully managed secure cloud solution.
This solution ended up reducing their physical footprint, utilities, and necessary maintenance thanks to our cloud virtualization capabilities.
Step 2: Then Moved on to Software Savings

Cloud computing has gone from a buzzword to an industry standard, and even more so with the sudden shift to remote working in the spring of 2020.
A move like this can seem like a daunting change for any organization, but in the case of our new client, it made their new remote operations faster, easier to manage, and less expensive.
The government contractor had been paying for an on-premise Microsoft Office solution. We informed them that Microsoft 365 and other cloud-based subscription apps can kill two birds with one stone, saving money and enabling remote work.
The reduced costs of a cloud-based group Microsoft 365 license compared to the de-centralized Office licenses that they had been using on-premises, turned into huge monthly savings.
Beyond cost savings, this migration was also a vital move for our client. All employees absolutely had to be able to access their Office files securely from home.
Which brings us to their VPN. Our client used a VPN to access files that were stored on the servers in their office. We found 18 RDS licenses that were not in use, along with an unused RDS Session Host, saving the client hundreds of dollars per month!
We also implemented a Desktop As A Server (DaaS) solution for many of the employees, providing remote access to the same files with secure cloud backups.
Step 3: We Then Discovered Unused Credits
Most of our new clients are looking to save money. We're usually successful in this process, but the amounts can vary drastically depending on the company's size, age, and the time since their last IT audit.
Generally, overall savings come from a lot of small items that add up to large sums.
In this case, however, after finding plenty of small monthly savings to help keep the business afloat, we also found a billing error in their on-site server invoices.
We helped them submit the billing dispute, and earned them a $4000 credit.
After ensuring that they received the credit, we provided new laptops for their now full-time remote employees, guaranteeing a low recurring hardware bill for years to come.
How Remote Technology Can Help Your Business Reduce Expenses

In general, moving to a remote working model can save a business money.
With a thorough audit performed by an objective expert, hundreds if not thousands of dollars can be saved by consolidating systems, removing redundancies and moving to modernized cloud-based solutions.
However, all of this takes a significant amount of planning and implementation which can be quite daunting to most organizations.
If your IT team is small, we can work with them.

If your IT team is non-existent, we can be them.

If your IT team is large, but needing guidance, we can be the virtual executive they need.
If you'd like to learn more about secure remote working, take a look at our online guide to remote work security, including practical steps to take action against today's cyber criminals: