Microsoft Windows 11 is designed to boost employee productivity and encourage team collaboration. It's also built to be more secure than previous versions of Windows, and to deliver a more consistent experience for users on the front end and IT staff on the back end.
But what does all that look like? Here are five things to note about Microsoft Windows 11.
Don't want to read the article? Watch the full recording below.
Be sure to register here for the "Microsoft and You" webinar series!
1. A New, But Consistent, Experience
Windows 11 is not a simple rebranding … or a complete rebuild. It's more of an evolution of Windows 10. Featuring a fresh look (and a different look at startup), Windows 11 is still consistent with Windows 10 to give users and IT a predictable experience.
Windows 11 also delivers the security and management features needed for hybrid work. It can be deployed alongside Windows 10 devices without interrupting business operations.
2. Increased Productivity
Windows 11 has a little bit of a Mac look and feel. It features the Start Menus in the middle of the screen instead of off to the left-hand side, and has an elegant look and focus right in the middle of the screen.
Snap Assist
The Snap Assist button lets you select from multiple styles options for how information looks on your screen. This is great if you have one big monitor or only one monitor to work from: It lets you slice and dice your monitor in ways that make the most sense to you, instead of having all windows appear side by side.
Widgets
Another new feature is Widgets. These allow you to personalize your operating system. You can have it show you the latest weather, for example, or the latest stock market figures.
Integrated voice typing
Windows 11 offers integrated voice typing. This is essentially built-in dictating software that you use to speak right into your Outlook documents without having to buy third-party products, such as Dragon Dictation.
3. Easier Collaboration
Windows 11 offers greater collaboration functionality by embedding Microsoft Teams into the operating system. You no longer have install Microsoft Teams—it's included during the basic install of Windows 11. This helps you and your team members to share applications more easily within Teams meetings.
Share a window while in a meeting: If you're on a Teams call, for example, and you want to share your PowerPoint presentation, Word document or Excel document, you simply click the "Share this Window" button at the bottom of your screen. This shares your application window so that everybody on your Team call sees it at the same time.
Obvious mute button: Have you participated in an online meeting where someone was on mute when they didn't want to be, or someone else was not muted when they should have been? Windows 11 makes it easier to know when you're muted and when you're not: The mute button is now prominently displayed on the bottom-right-corner of your screen.
4. Better Security
One of the primary benefits of the new Windows 11 operating system is the improved security. Microsoft has built security into the functionality right at the ground level by developing baseline systems to help you mitigate threats and block them before they become a risk to your company.
Trusted Platform Module
Windows 11 systems come with a Trusted Platform Module right out of the box. This means chips are integrated into the PC motherboard or added separately to the CPU. This protects encryption keys, user credentials, and other sensitive data behind hardware barriers so malware and attackers can't access or tamper with valuable or sensitive data.
Virtualization-Based Security
Windows 11 takes Virtualization-Based Security and enhances it to make it more secure. This involves Kernel Data Protection that makes Kernel Memory read-only. This protects Windows Kernel Drivers from being tampered with. This ensures the multitude of events that happen at startup happen the way they should—you boot up in a correct state because nothing has been tampered with beforehand.
Application Guard
Another security feature of Windows 11 is Application Guard, a protection sandbox for Edge in Microsoft 365 that uses virtualization, isolation, untrusted website classifications, and untrusted document classifications to limit the damage that malicious websites and documents cause. The separation and isolation that Windows 11 delivers makes this OS more secure than Windows 10 and other operating systems.
Credential Guard
Credential Guard is the local security authenticator authority subsystem and a virtual container. It stops attackers from dumping credentials and using them to conduct Pass-the-Hash attacks. It enables password-less access by incorporating biometric features (such as face or thumbprint) to authenticate users.
5. Greater Consistency
Windows 11 offers the same functionality that you're used to with Windows 10, so you and your users aren't going to face a steep learning curve. You won't have to get used to new workflows or processes when moving to this new operating system.
For example, the applications that you're running for your business line of applications on Windows 10 will also work 98% of the time on Windows 11. At Ntiva, we haven't come across any applications that have not worked just as well or if not better than they did on Windows 10.
Best Practices for Upgrading to Windows 11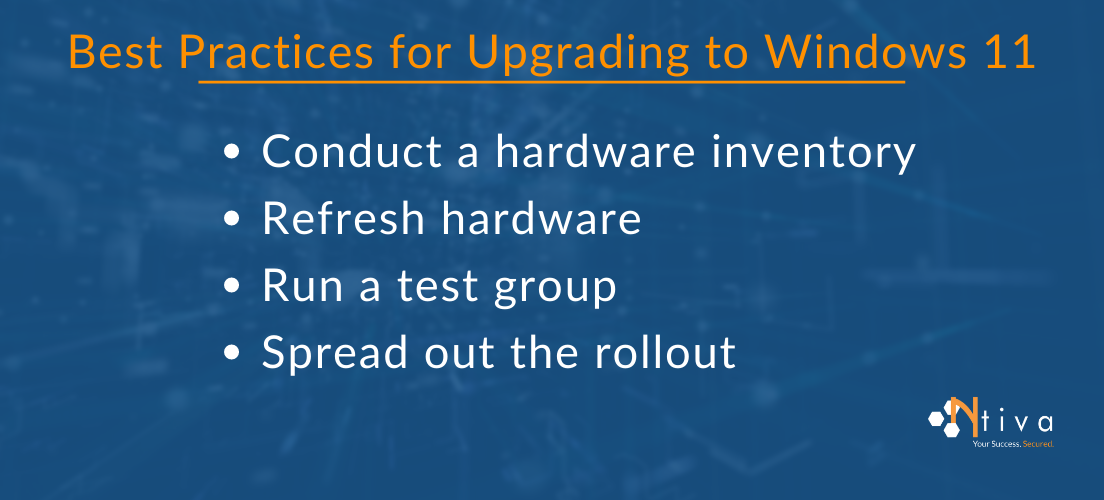 Whether you are upgrading a few PCs or an entire enterprise to Windows 11, you should follow some tested and proven best practices.
Conduct a hardware inventory: Gather information on your current fleet of laptops and desktops to make sure they meet the minimum requirements for Windows 11. With the new security features in Windows 11, some older PCs and CPUs cannot be upgraded to this new OS.


Refresh hardware: When needed, upgrade old hardware with Windows 11-ready devices.


Run a test group: Run your first batch of upgrades in a small test environment to ensure that your applications that worked in Windows 10 work as expected on the new OS. Then rollout to the rest of your fleet.


Spread out the rollout: Have your Windows 10 and Windows 11 systems running side by side over the space of a month or two as you rollout. Pick a timeframe that's convenient for your organization so that you don't do the rollout all at once.


Windows 11 Is a Great Fit for Today's Business Needs
Microsoft launched Windows 11 to help employees and teams focus on what's important: communicating, collaborating and getting the job done efficiently.
This latest OS from Microsoft delivers the security and management tools you need to enable hybrid work. Best of all, you can deploy Windows 11 alongside Windows 10 devices without interrupting your business operations. If you need help upgrading your enterprise to Windows 11, let's talk. Or, review our Microsoft 365 Consulting & Managed Services.