If you have a remote workforce (and, let's face it, who doesn't these days), you are likely concerned about how to secure your networks and data against intrusions by hackers, scammers, cybercriminals, and other hostile actors.
Your options for hardening your defenses include hardware, software, training, and managed security services.
But have you considered a zero trust security model?

Some security experts say it's the best way to stop data breaches. So, here's a quick brief on zero trust security—what it is, how it works, and why it's important for protecting your remote workforce.
What is Zero Trust Security?

Zero trust security is a model for network security pioneered by John Kindervag in 2010 while he was a principal analyst at Forrester Research Inc.
"At its core, the zero trust model is about eliminating the concept of trust and trusted systems because [in the context of digital systems] trust is a vulnerability. It provides no value to an organization, so we need to mitigate trust, just like any other vulnerability, and control access on a need-to-know basis."
- John Kindervag
The goal of zero trust security is to eliminate the very notion of trust when it comes to system security.
The reason for this, says Kindervag, is that people lower their vigilance once they start believing that networks and systems are trustworthy.
They stop doing validation checks, for example. They start allowing systems to access things they should not be allowed to access.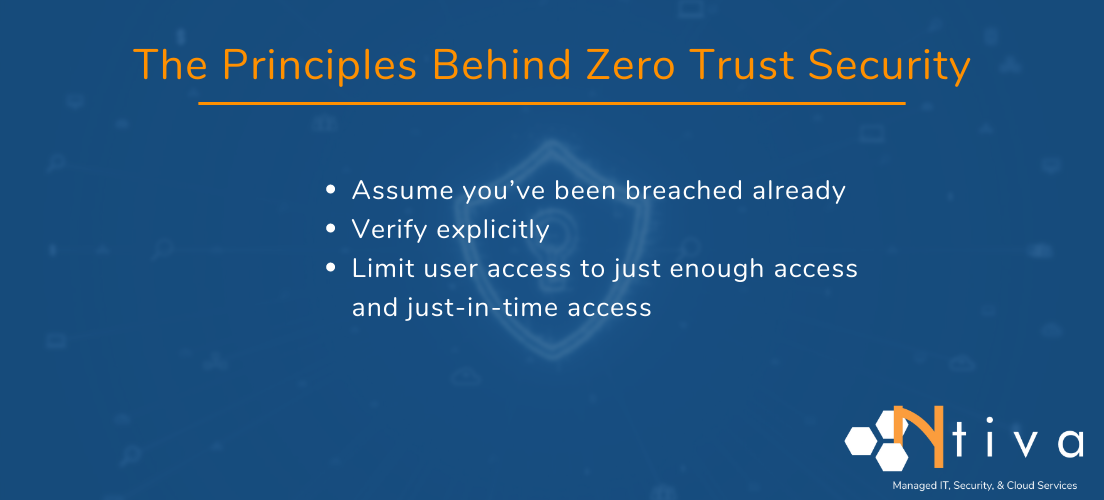 There are three simple principles behind zero trust security.
1. Assume you've been breached already
2. Verify explicitly
3. Limit user access to just enough access and just-in-time access
With zero trust security, every aspect of the communication chain—the authentication chain, identity, data sources and more—is not to be trusted. The whole thing is suspect. You assume that everything is potentially wrong.
What this means in practical terms is a fairly radical departure from past practices. You may have assumed everything behind your corporate firewall was safe.
Now, you need to always assume that your network has been breached. And you verify each request for access as though that request is coming from an open (read, untrustworthy) network.
Why You Must Care About Zero Trust Security



We wish we could say zero trust security is overkill, but that's far from the case. Consider how digital technology alone (such as IoT) has vastly increased most organization's risk surface.
Now, consider the equally sizeable increase in the number – and sophistication – of today's cyberattacks.
At risk is your security and privacy compliance, meeting certification standards, your reputation with your stakeholders, and your systems and data – the very lifeblood of your organization.
You can't afford to operate on trust anymore.

And you particularly cannot afford it if you have a remote workforce.
Why?
Because your remote workers are working from everywhere, using insecure home networks and public networks, using their own devices, and storing data in insecure places.
Zero trust helps you take back control of security in the age of remote workforces.
How to Build a Zero Trust Security Strategy

Zero trust isn't something you buy (if only it were that easy). It's something you create, and then implement.
To create your zero trust security strategy, follow Microsoft's lead and create a strategy that features these six components:
1. Identities: Verify and secure each identity with strong authentication across your entire digital estate.
2. Devices: Gain visibility into devices accessing the network. Ensure compliance and health status before granting access.
3. Applications: Discover shadow IT, ensure appropriate in-app permissions, gate access based on real-time analytics, and monitor and control user actions.
4. Data: Move from perimeter-based data protection to data-driven protection. Use intelligence to classify and label data. Encrypt and restrict access based on organizational policies.
5. Infrastructure: Use telemetry to detect attacks and anomalies, automatically block and flag risky behavior, and employ least privilege access principles.
6. Network: Ensure devices and users aren't trusted just because they're on an internal network. Encrypt all internal communications, limit access by policy, and employ micro-segmentation and real-time threat detection.
How Ntiva Helps You Implement Zero Trust Security

Implementing a zero trust security strategy can be a monumental task, especially if your team is already overextended. If you need help creating and deploying a zero-trust security strategy, you can get help from a third-party firm, such as Ntiva. Here's what our engagement looks like.
Step 1: Assessment
We meet with your team to understand what your landscape looks like relative to a zero-trust model.
We align your business, your risks, and your concerns so that we have a clear picture of what you care about most.
Step 2: Framework
We then craft a framework that helps you understand the investment you must make to mitigate the risks we identified in Step 1.
This framework is practical and based on your level of comfort with the risks and costs involved.
For example, we help you understand not just the cost of implementing a zero-trust strategy, but how that strategy can mitigate other costs – and how you can come out ahead.
Step 3: Execution
Finally, we implement the framework, customizing the execution to your unique environment and challenges. Every engagement is unique.
Talk to the Zero Trust Security Strategy Experts
If you are keen to get started with a zero trust security strategy, let's talk.
Ntiva has a dedicated security team that is 100% focused on the security and compliance of our clients.
We are a senior team of experts, each member having more than 20 years of experience in network security. Plus, we are a Microsoft Gold Partner, able to implement the Microsoft zero trust methodology for your enterprise.
Reach out to us if you would like more information, and in the mean time take a look at our latest Guide To Remote Work Security for pragmatic tips and tricks!