If you're a government contractor, you know that staying on top of federal government compliance such as NIST SP 800-171 - and now CMMC - is an absolute necessity. But it can also be a burden to your organization, especially if you don't have the internal IT resources that have the time or expertise to ensure compliance.
NIST Compliance For Government Contractors
It's a fact that government compliance standards can seem like a veritable alphabet soup - NIST, FISMA, DFARS, CJIS, HIPAA, FedRAMP + FedRAMP DoD IL 2, 4, 5, 6 and now - the new Cybersecurity Maturity Model Certification (CMMC.)
Making matters even worse, a lot of these regulations overlap, and many contractors aren't certain which standards they need to comply with.
If you're not sure how to meet all these cyber security controls, or are reluctant to assign your tech talent who should be focusing on billable work, it might be time to look at outsourcing your compliance needs to an expert third party who provides IT security services for government contractors.
By outsourcing compliance work to a Managed Security Services Provider (MSSP), you can save both time and money in getting and - most importantly - staying compliant.
Not a government contractor? Even if your business doesn't operate in the public sector, you'll benefit by understanding at least the basics of these information security standards, starting with the NIST framework.
Not only will these standards ultimately trickle down into state and local laws, you'll be one step ahead of everyone else when it comes to cyber security protection.
So let's start with the basics - understanding the NIST framework.
(Note: If your organization complies with NIST, it's highly likely you are 95% ready to comply to CMMC!)
What is NIST?
The National Institute of Standards and Technology (NIST) is a government agency that creates and promotes information security standards for the federal government, ensuring that all data handled by government entities and contractors is protected and kept secure during use, storage, and transmission.
These standards are outlined in NIST's SP-800 series of publications, including NIST SP 800-53. The controls outlined in NIST SP 800-53 are the basis for FISMA, as well as many other government compliance standards.
In this post, we're going to explain the NIST framework in terms of showing how it can benefit all types of businesses, as well as provide a case study on how we helped a government contractor achieve and maintain NIST compliance.
Understanding the NIST Compliance Framework
NIST compliance framework focuses on five things.
Identify
Protect
Detect
Respond
Recover
These five steps can guide your organization to a more secure network and overall IT environment, no matter what industry you're in. However, they do require some heavy lifting with detailed planning and execution, and most organizations need to hire a third party security expert to help plan, implement and maintain NIST compliance.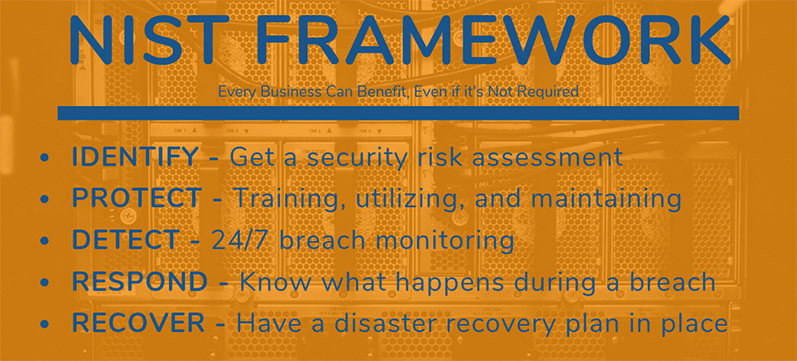 Let's go through each step in the simplest possible terms.

Identify – For this stage, you need a complete IT Risk Assessment to check your current network for outdated systems, and see where potential dangers and pitfalls lie. Here, a plan can also be implemented to fix these issues.

Protect – Identify the ways your organization's data can be kept safe. This includes all aspects of cyber security, from hardware like firewalls and port configuration to security monitoring software. Don't forget training end users as well!

Detect – Your entire business network needs to be monitored every minute of every day. This includes everything from PCs to routers. Endpoint Detection and Response can monitor all connected devices endlessly and alert our team of security experts the second a potential danger is found.

Respond – What will happen when your business inevitably is targeted by a cyber security threat? You need a plan. Intrusion Detection and Response can keep you up and running by isolating threats and allowing our experts to eradicate any potential dangers as quickly as possible.

Recover – Assume the worst happens, and your data is corrupted by a malicious attack. Do you have backups in place? How will you restore your organization's data and alert your clients of the incident? A vCISO can help you plan for the worst.

Again, not everyone needs to meet NIST compliance standards, but even if it's not a necessity, it's still a solid framework to build a safe and secure environment for your business.

Let's take a look at how one local government contractor was able to use Ntiva to not only achieve NIST compliance, but also put a plan in place for maintaining the high levels of security they required to remain compliant.

Case Study: How This Government Contractor Tackled NIST Compliance
The Challenge
A growing government contractor in the Washington D.C. area had a small in-house IT team who provided excellent support to the staff. However, they were starting to be overwhelmed by day-to-day support requests as the business expanded, which meant other projects were slipping.
This meant that strategic projects that were necessary to help the business compete were not getting done, including keeping up with the changing requirements for regulatory compliance.
No one in the organization could claim that they were NIST compliant, a top priority for any government contractor that wants to maintain their Federal contracts!

The Solution
Ntiva was called in to do to a one-time audit of their existing IT infrastructure and operations, including a NIST risk assessment in order to triage, track and treat gaps in their current approach.
After a deep dive investigation, the first recommendation was to update their data center. Eliminating outdated hardware and software via server consolidation and virtualization not only dramatically lowered maintenance costs but reduced their exposure to cyber attacks.
Another key element which was missing was a compliant data backup and disaster recovery solution. Ntiva proposed and quickly implemented an up-to-date solution to ensure that this glaring omission was rectified quickly, not only with an eye to federal government requirements but to ensure business continuity overall.
A complete System Security Plan (SSP) was created, documenting in detail all of the necessary security measures that needed to be put in place to achieve NIST compliance, along with a Plan of Action and Milestones (POA&M) which outlined the action items that needed to be done.
The Impact
Even though the contractor was in a solid place to manage ongoing IT operations with confidence using their in-house team, they knew they still needed extra help to remediate all the outstanding issues that were called out in the POA&M.
They realized this was beyond the scope of their existing staff, and hired Ntiva to start implementing on all of the necessary security updates that would be required to claim NIST compliance.
Part of this was the decision to outsource 24/7 cyber security monitoring and incident response by taking advantage of Ntiva's Managed Cyber Security Services, relieving the worry and burden of maintaining NIST compliance with this ongoing service.
If you're concerned about NIST compliance or just need IT help in general, check out the range of managed IT and security services that Ntiva offers by clicking on the image below.