CMMC 3.10: Physical Protection
Available to watch
About This Webinar
Unlock the secrets of CMMC Section 3.10 in our informative webinar. Dive into the nitty-gritty of physical protection for controlled unclassified information (CUI) and explore six critical controls. From limiting physical access to monitoring visitor activity, get the lowdown on compliance requirements. Plus, learn how to obtain CMMC certification without breaking the bank.
Agenda
Introduction And Welcome
Understanding CMMC Section 3.10
Compliance And Best Practices
Q&A
Subscribe Here!
Get the latest webinars delivered to your inbox.
Meet Your Hosts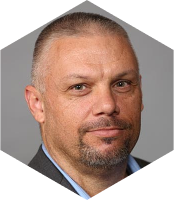 Dr. Jerry Craig.
Jerry is Ntiva's Sr. Director of Security and CISO, offering more than 20 years in the IT and cybersecurity industry. Certified CISO, CISSP and CCSP, Jerry also serves part-time as Adjunct Professor in the University of Maryland Global Campus.