Expert Backup and Disaster Recovery (BDR) Protection
If you're operating without a reliable data backup solution, you're playing a dangerous game. When data loss happens, you'll be unable to recover the lost information, which can quickly lead to problems like lost clients and lost productivity.
Fortunately, with backup and disaster recovery protection from Ntiva you can relax, knowing your systems are safely backed up. Even if data gets lost, you can recover it quickly and get back on your feet.
What Are Managed BDR Services?
Without the right software and procedures in place, lost data can take anywhere from hours to weeks to restore. But trying to do it yourself can be a be costly – and time-consuming.
With managed backup and disaster recovery services from Ntiva, you'll enjoy the benefits of working with an experienced partner who can help you bounce back quickly when data loss occurs, while keeping your own resources free to focus on your core business functions.
Benefits of Managed BDR Solutions
Even the largest enterprises may struggle to cover all their IT needs with a single internal team. Your company needs your IT department focused on key initiatives that help generate profit. But this still has to be weighed against the need to protect your data and systems against potential dangers and risks.
With managed backup and disaster recovery solutions, you add Ntiva's expertise to your own to help keep your data protected. Here are three ways you benefit.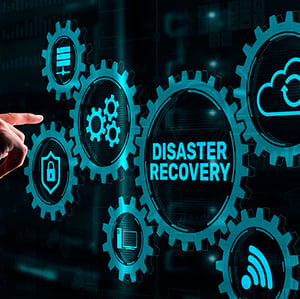 Types of Managed IT BDR
Organizations rely on Ntiva for managed IT backup and disaster recovery because of our long-standing expertise in the field. They know that when a data loss incident happens, we can help them quickly recover and restore operations.
The specific services you need depend on your operations and goals. However, there are a few common types of managed IT BDR that any business can benefit from.
How Does Managed IT BDR Work?
Successful managed IT BDR works by creating a backup and disaster recovery plan tailored to the needs of your organization. Ntiva works closely with you to understand the current state of your BDR posture, along with your business objectives, all to develop a plan that protects you and your stakeholders.
Once you're ready to begin, you can start the discovery process by talking to one of our consultants. We follow a four-phase onboarding process for new clients, which allows us to collect the vital information and knowledge we need to equip your business for the best possible outcomes. Once this process is complete, you'll be ready to put our managed IT BDR services to work for your organization.