You're texting your boss. The district manager pings you on Slack. Meanwhile, you get a Facebook message from your co-worker down the hall. There are simply too many collaboration platforms out there that employees can jump on, and most of them are painfully unsecure.
While you can't stop your buddies from using their own desired platforms, you can and SHOULD get your entire organization on one consistent channel.
As remote work becomes more and more common, we all need a single place to store, discuss, and edit our work. Splintering each task into its own app will lead to tech headaches and unnecessary time wasted.
If you're smart enough to get your team on Office 365, you know the benefits of everyone keeping their work in the same place. The data is always accessible, and easily shareable. The missing piece of the puzzle is a quick way to chat and transfer that data.
Enter Microsoft Teams!
Teams Will Make Your Business Run More Efficiently
Thanks to Teams' Office 365 inclusion, you can use the chat-based software to send files directly from your OneDrive.
No more emailing attachments and waiting around for a reply. You can even send your contact a link to the document, and open it together to collaborate in real-time.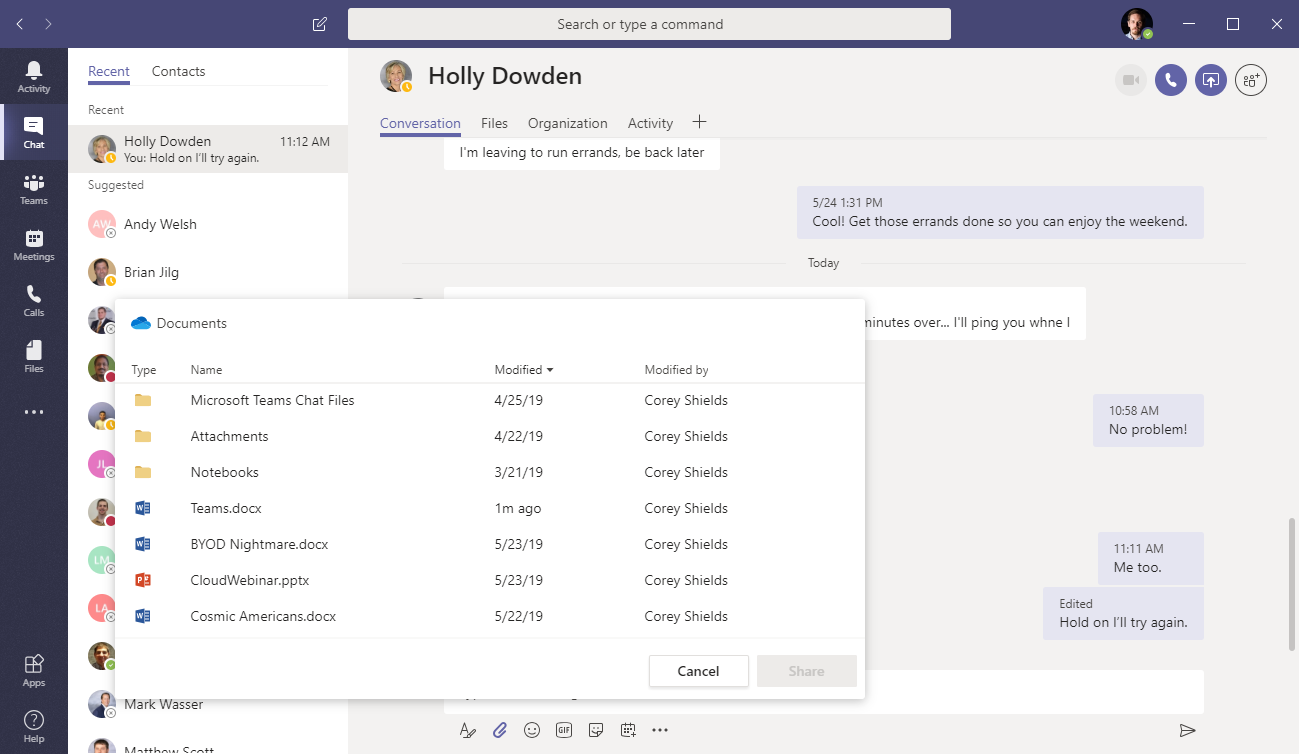 With an ever-growing list of third-party app integrations, Teams is making sure that you can send just about anything to anyone in your business without ever leaving your chat window.
From workflows in Polly to social media management in Hootsuite, everyone can access the information they need together in Teams.
Another thing worth mentioning, file transfers are incredibly fast. Send any document or Office file in seconds. Even high-res photos and videos transfer faster than any browser download you've experienced.
Your workflow won't be killed by a slow data share!
With its mobile options for iOS and Android, you can also take Teams with you on the go. You're never far from your co-workers and the files or projects you're currently working on.
(Just make sure you've got the right work-life balance on that mobile device!)
Teams Will Help Your Organize Your Work Week
Without your Outlook calendar, you'd be lost, right?
It syncs to all of your devices, and you use it to plan out your entire work life. With Teams, your calendar is always accessible under "Meetings" on the left side navigation pane without leaving the app!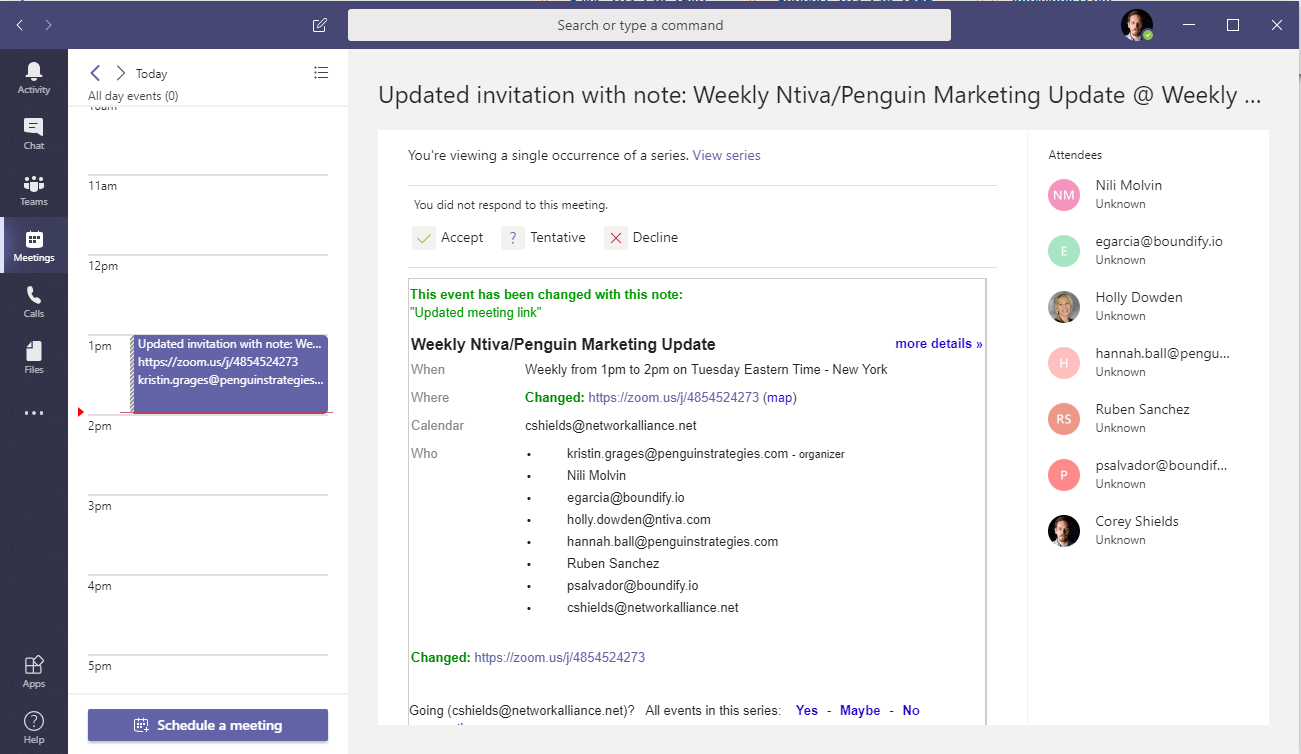 Modify existing events, and schedule new ones with all the ease and customization you're used to with Outlook. View attendees and those who decline, event details, and if applicable, edit the entire series of recurring meetings straight from Teams.
While not necessarily a game changer, the simplicity of having something as useful as your calendar directly inside your messaging software allows for easier planning among you and your co-workers.
After all, it's the little things that tend to make life better!
Teams Will Help You Work Together, No Matter Where You Are
Click a name, click the video icon in the top right, and go. Just like that, you can connect over video with anyone in your organization.
With an entire "Calls" section, fully customizable Speed Dial settings, and even a Voicemail section, Teams is really trying to take over all of your communications, be they audio, video, or text-based.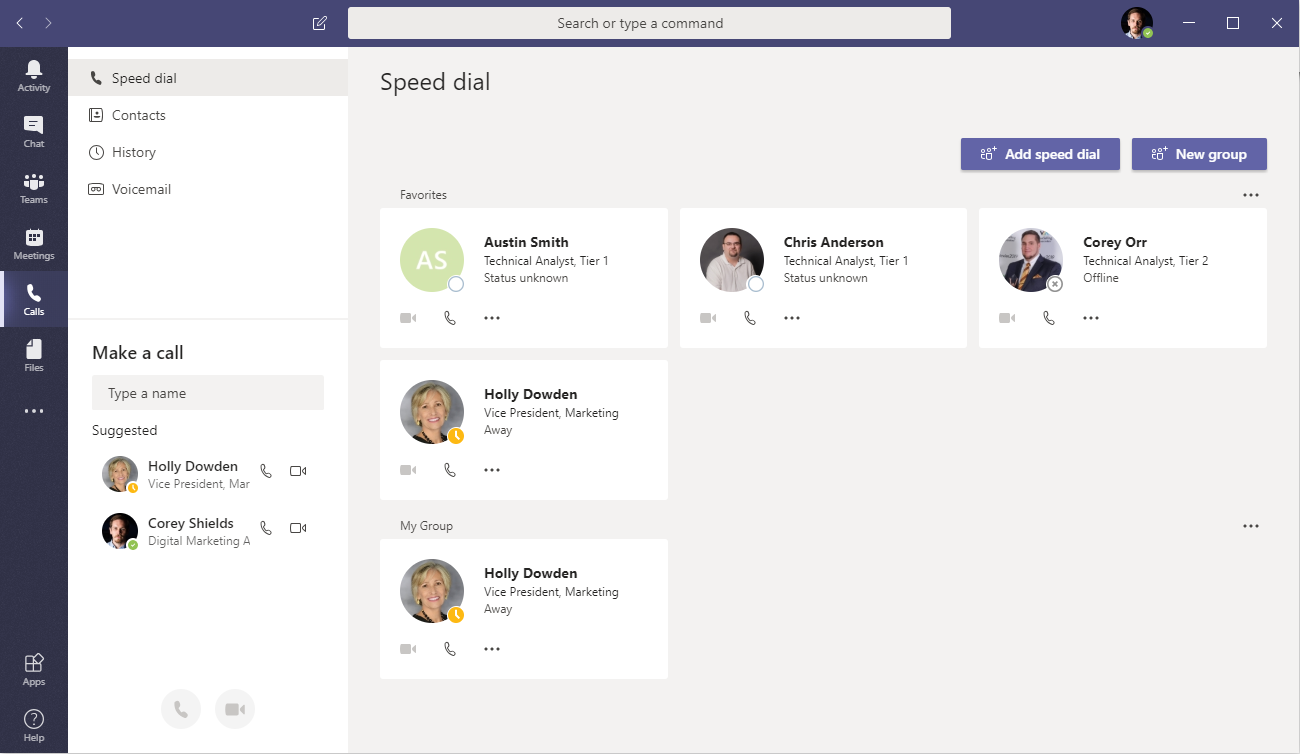 Your call history is readily available, along with every contact you've saved in Outlook. Just search for their name, and get to work with anyone in your business.
Call clarity on Teams is certainly on par with what we've come to expect from software like Skype. Video calls are especially crisp and clear when on a solid internet connection with a webcam.
Teams Wants to Be Your Go-To Application
With the third-party app integration, simplistic file transfers, and ability to chat or speak in seconds, Microsoft Teams wants to find an-always on location on your desktop.
Honestly, once you start using it, you won't want to stop.
As our workplaces continue to grow, and more of us become remote workers, our businesses need a solid and proven software that can act as a central hub for everyone.
With access to everyone at all times, but also private groups for your direct staff, Teams really does feel like a digital "office."
The combination of Microsoft Teams through Office 365 and a trusted IT Service Provider will take IT stresses off your plate.
Knowing exactly where your entire organization's files are, and how to share and collaborate on them, while also having the peace of mind provided by redundant data backups and rock star 24x7 IT support will leave more time for what makes your business special!
Having your organization in one centralized digital structure is crucial to consistent deliverables, expectations, and synergy. Office 365 brings all of this to you, and Teams is the way to share it all in real-time.
View your calendar, chat history, and all the files you've sent back and forth with anyone all in one place. Hold video conferences, individual audio calls, or even group chats with relevant team members.
No third-party apps to download, no sync issues to worry about. Teams is already built in to your Office 365 subscription!
If you're interested in finding out more about cloud collaboration platforms like this, check out our latest webinar, "Team Collaboration Tools: Google Drive vs OneDrive vs Dropbox," below!