Keeping a business protected from cyber attacks is one of the most pressing issues of 2020. But can you afford the level of security that you need? You might be surprised to learn that most organizations who are looking for IT support in Chicago are also signing up for managed security services, and here's why!
Managed Security Services are the most cost-effective way to get access to a suite of cybersecurity solutions that are completely managed for you, around the clock, for a fixed monthly fee.
According to Market Watch, the global managed security services market is on track to reach a value of $55 billion by 2025. This is because most organizations simply can't keep up with today's threat landscape, and it's almost impossible to hire and retain the talent they would need for full protection.
Many IT service providers in Chicago and elsewhere offer some level of security services. But for complete protection, a Managed Security Service Provider (MSSP) is probably your best bet. Read on to learn what an MSSP is and why your business needs one!

Why Do You Need Managed Security Services?

Before we even get to how you choose a managed security provider, it's essential to understand why your business needs managed security services in the first place.
What exactly does your business stand to gain from teaming up with a managed security service provider?
1. Reduced IT security costs
An MSSP significantly reduces your in-house IT security burden. If you don't have to hire a special IT team to manage security, you will save a tremendous amount on labor costs - and security experts do not run cheap these days. And of course, the more protected you are, the less likelihood of potential data breach-related costs, which are at an all-time high at the moment and rising.
2. Access to the latest security technology
With so many IT security tools and solutions in the market, it can be difficult to figure out what really works for your business. However, an MSSP comes well-equipped with the latest and most effective technologies in identifying, preventing and mitigating cyber threats, something well worth the monthly cost on IT security.
3. Proactive cybersecurity management
MSSPs are vastly skilled and experienced in the digital security field. They're therefore able to apply their expertise in coming up with long-lasting cybersecurity remedies through proactive threat hunting and formulation of practical solutions.
4. Personalized and actionable security insight
One of the most challenging things when creating an IT security plan, and the risk assessment framework to go with it, is anticipating cyber-attacks. You may never know the nature of potential threats, which makes it challenging to protect your business.
An MSSP can provide you with useful insights, from a professional perspective, about the strengths and weaknesses of your cybersecurity. This makes it easier to anticipate and guard your IT systems against attacks.
Security Consulting Chicago
Now that you know the importance and benefits of working with an MSSP, it's time to select a provider that best suits your business and IT security goals.
There are hundreds, probably even thousands of security consulting companies out there, all claiming to deliver exceptional IT security solutions through their managed security services.
How do you choose a managed security service provider?
Here are five crucial factors you should consider when selecting an MSSP.
1. What does the MSSP offer?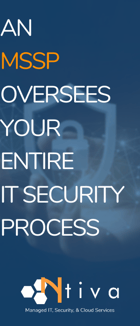 Before settling for a particular MSSP, you first need to find out the scope of their managed IT services Chicago. And, more importantly, whether their services cover all your IT security needs.
Different MSSPs have different service packages, and some are tailored specifically for particular industries or businesses. In other words, managed security services are not one-size-fits-all.
Find out exactly what your business needs from a managed service provider and look for one who at least comes close to meeting all those demands.
Although you can hire different providers to offer various services, it's more convenient and cost-effective to have just one MSSP to take care of every aspect of your IT security.


It's also important to make a value vs. cost analysis when comparing different MSSPs. You want an MSSP that gives the best value for money depending on the services offered, but not necessarily the cheapest. It might also be necessary to compare payment terms to create a predictable IT security budget.
2. Reputation matters
Reputation is built on knowledge, expertise, experience, and a track record of providing exceptional services in the field. First, make sure that the MSSP is adequately skilled and qualified to provide managed security services.
Next, find out what other customers and players in the industry have to say about the MSSP. Look up case studies, reviews, and testimonials to get a good picture of the kind of responsiveness and services you should expect from each candidate.
3. Compliance with data laws
An MSSP should help your business meet the required data protection and privacy regulations and guidelines. There are a number of local and international laws that strictly dictate data security measures to ensure that acceptable levels of data protection are reached. The most recent of these regulations include the EU's GDRP and California's CCPA. Failure to comply with data security legislation attracts heavy fines and penalties.
Ask the MSSP about their strategies for legal compliance and make sure that the company itself is compliant, certified, and permitted to offer managed services in your region.
4. Advanced protection
There is more to cybersecurity than running antimalware and putting up firewalls. Cyberthreats are getting more sophisticated and devastating with time. The University of San Diego recently found that new emergent threats are continuously challenging traditional threat protection methods.
An MSSP must be capable of providing more than just conventional protection to guarantee IT and data safety.
Ask the MSSP how they are prepared to deal with new threats, or about their secret weapon for warding off cybercriminals. Some MSSPs have proprietary IT security systems, highly intelligent tools, or proactive involvement in white hat activities and tests.
The important thing is to make sure that the MSSP understands that the cybersecurity landscape is dynamic and is equipped to counteract any changes and stay ahead of emerging threats.
5. Customer service
Finally, you need to look at how the MSSP treats its clients. Is the MSSP there for you? An MSSP has to be available and responsive to the customers on-demand.
Make sure you can reach the MSSP for prompt responses, whether this is through live chat, voice call, or email, whenever you have a problem or an inquiry. A service is only as good as its delivery system.
Good MSSPs stand behind their IT security services and ensure that their clients are satisfied and contented at all times.
Make the Right Decision
There are definitely many worthwhile benefits that come from working with a managed IT security provider.
But you can only leverage these benefits once you pair with the right MSSP, one who understands your security needs and has all the proper skills and tools to fulfill your demands. It's not easy to judge the worth of an MSSP, but the criteria discussed here should guide you in making an informed call.
If you'd like to learn more about managed security and the solutions we provide, don't hesitate to get in touch with us.