From startups to international businesses, it seems like everyone could use Microsoft 365 consulting. While most have moved on from the Office CDs of the past and into the 21st century of cloud computing, many are still missing out on key Office 365 features.

Let's take a look at how Microsoft 365 consulting can help your business increase productivity while potentially lowering your annual costs at the same time!
Don't want to read the article? Interested in seeing our expert demos?
Watch the full recording below.

Be sure to register here for the "Ntiva Lunch and Learn" webinar series!

What is Microsoft 365 Consulting?
Microsoft 365 consulting is simply working with a Microsoft specialist to implement and optimize your 365 solutions. These consultants possess in-depth knowledge and expertise in Microsoft 365 applications, integrations, and best practices.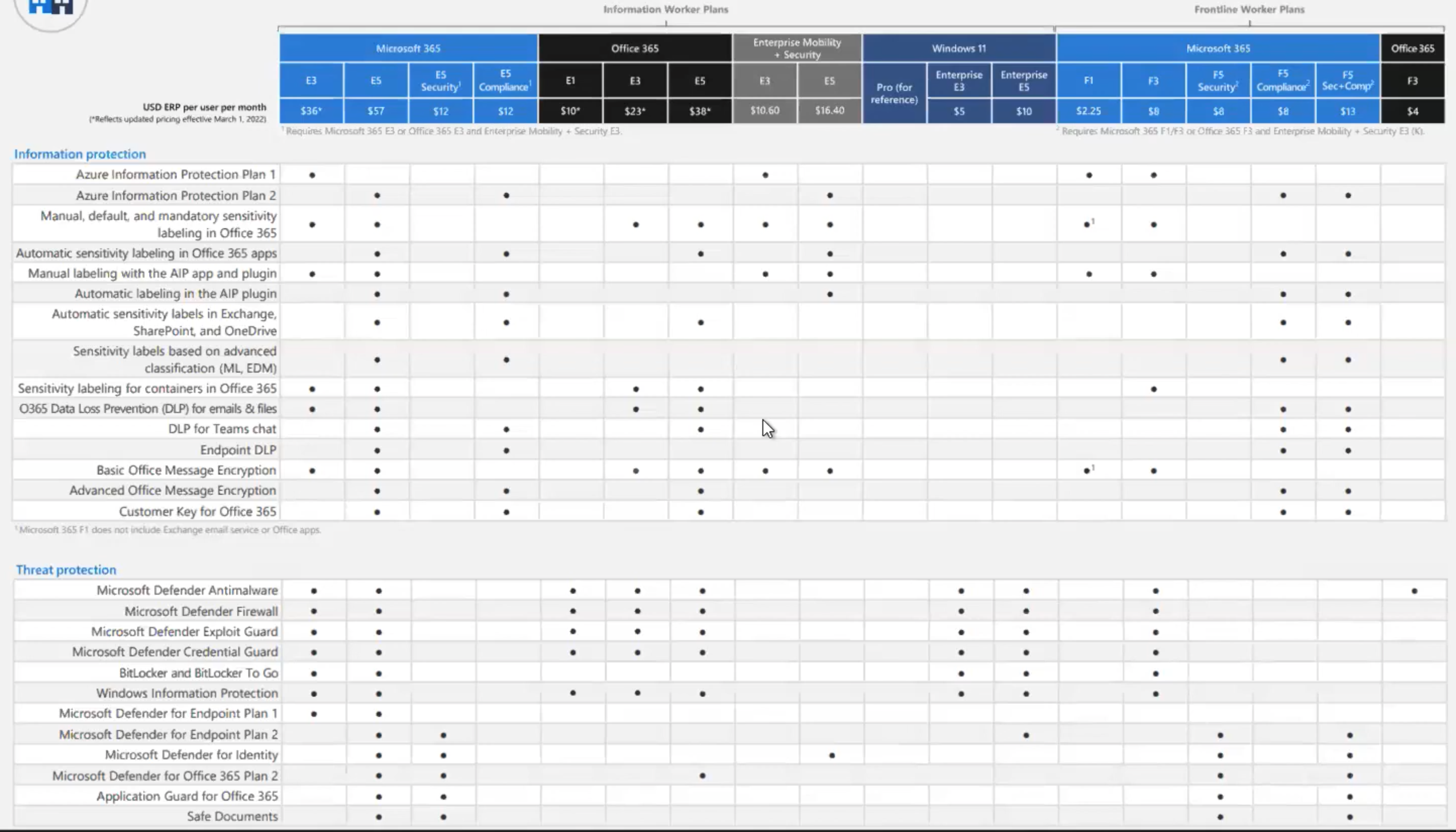 As you can see in the image above, there are a vast amount of different licenses and programs available from Microsoft! Without a consultant, your business could waste thousands of dollars per year on software you simply don't need.
Microsoft 365 consulting involves more than just licensing. An educated consultant can help you configure your environment as well. Determine things like backup frequency, mailbox sizes, and even application and/or file permissions.
Don't forget, with Microsoft 365, sharing and collaboration have become incredibly easy. A skilled consultant can help setup SharePoint services, OneDrive hierarchies, and any other sharing configurations you might want!
Also, another thing to consider is security. A Microsoft 365 consultant will help setup your environment while enforcing things like multi-factor authentication and other security protocols to keep your data safe.
How Microsoft 365 Consulting Can Help Your Business
Assessing Your Organization's Needs
Aligning the Microsoft 365 platform with your business goals is the main reason to hire a Microsoft 365 consultant. This isn't about playing with new technology and trying to find a way to fit it into your business. This is about using the expertise on 365 to shape it into what your business needs.
Designing a Tailored Solution For You
After assessing your needs and meeting with the proper stakeholders to make sure everyone's desires are met, a Microsoft 365 consultant will being the process of developing a custom 365 solution to align with your goals and objectives.
Migration and Implementation
The migration and implementation stages of a Microsoft 365 setup are by far the heaviest lifting of the project. This requires real finesse and skill that simply can't be completed by a single in-house IT employee.
There's nothing worse than having new software that doesn't work on day one. A verified consultant will make sure the 365 environment is ready for you and fully tested before being implemented in your office!
Training and Adoption
Setting up a Microsoft 365 environment is one thing, teaching all of your employees to use it is another! Training sessions for your entire staff will help guarantee that everyone knows the proper way to use the new Office 365 tools that are being provided to them.
Ongoing Support and Optimization
After building out the 365 environment, implementing it, and training your employees, you'd think you're done, right? Wrong! We see time and time again that organizations tend to need on-going support well past the 90 day mark. Maybe new tools are added to the 365 environment, maybe your staffing needs grow and a new licensing package is needed. No matter what happens, a solid Microsoft 365 consultant will carry you through!
Benefits of Microsoft 365 Consulting
Streamlined Collaboration
Whether it's SharePoint, OneDrive, or Teams, Microsoft 365 offers plenty of collaboration options. One to one video calls or text chats, group meetings from anywhere in the world, and easy access to all of your files on any computer.
A skilled Microsoft 365 consultant can help you decide which of these platforms is best for your team to work together and share data in real time!
Enhanced Productivity
Employees will be able to accomplish more every day with access to the Microsoft 365 suite they need. Utilizing the Power Apps platform can help create a no-code or low-code solution to help automate daily tasks and free up your employees to do more impactful work every day!
Data Security and Compliance
Part of understanding your business needs includes understanding any kind of cybersecurity regulatory compliance standards that must be met. Even if you're not involved with CMMC, GDPR, or HIPAA, data security should still be at the top of your needs list. This isn't an additional add-on, cybersecurity needs to be built in to your Microsoft 365 plans from the get go.
Cost Savings
Always a favorite, cost savings! We see this often with companies that buy bulk Microsoft 365 licensing without addressing the true needs of their users. Sure, some on your team may need licensing for special high-end software, but it's doubtful that your entire organization needs access to things like Visio. Microsoft 365 consultants can address software needs on a user-by-user basis, saving you potentially thousands of dollars every year!
Microsoft 365 consulting will give your business alignment between technology and business goals while enhancing your productivity. New collaboration abilities will streamline workflows and processes throughout the organization. And the best part? There's a good chance of seeing overall cost savings! Interested? Reach out to us and see if our Microsoft 365 consulting services are right for you!