Microsoft Office 365 is the cloud-based collaboration platform from Microsoft that offers all of the productivity software we've come to know and love, including Office apps such as Outlook, Word, Excel, PowerPoint, and much more!
With immense popularity thanks to remote workplace growth and even a push from Microsoft themselves, Office 365 is everywhere. But, many people don't know how to best utilize the software and all its features.
Thanks to cloud-based Office 365, you can stay connected to your team and projects regardless of your physical location - all you need is an internet connection. And keep in mind, Office 365 works on any operating system and even your cell phone!
Here are 5 benefits of Office 365 for teams who work remotely: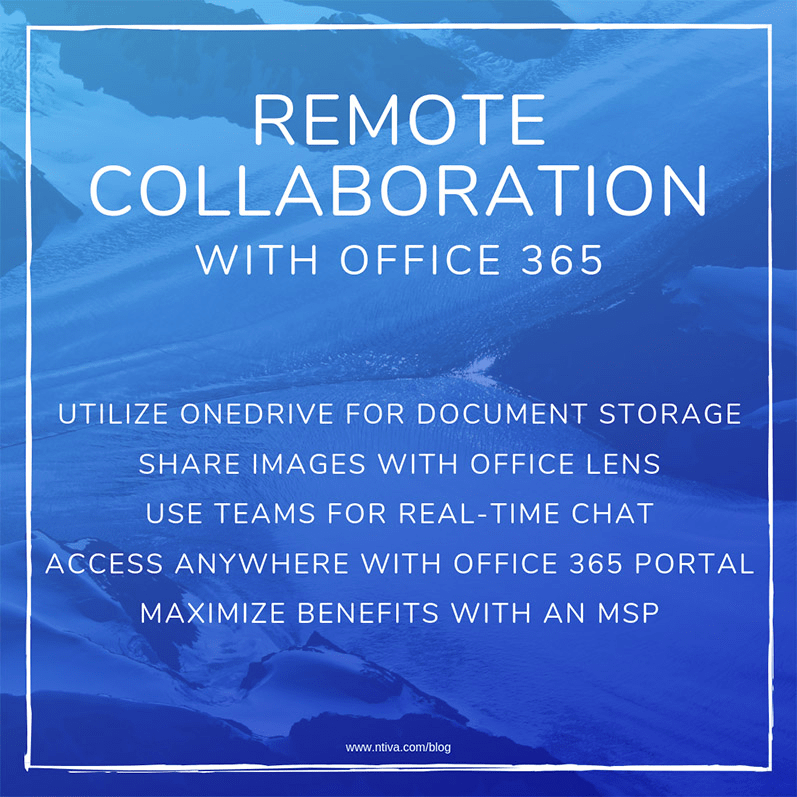 1. Utilize OneDrive
Think of OneDrive as your computer's hard drive, just in the cloud. You can access your files anywhere simply by logging in, and know that your data isn't lost, even if your PC fails.
OneDrive can be accessed from your browser on the 365 portal, from your desktop with the installed standalone version, or even your cell phone, thanks to the new mobile app.
For work teams, OneDrive is amazing in its simplicity. To share a document, all you have to do is click Share and type the contact's name in. If they're not in your organization, it's still as easy as Actions > Copy Link. You can set permissions during this stage, as well, allowing others viewing or editing permissions.
The document sharing and access can be set to as little as one file, or even an entire folder! You control who can see what in your OneDrive, ensuring privacy along with easy collaboration.
2. Share Images with Office Lens
Office Lens isn't a standalone app. It's actually a part of the iOS and Android versions of OneNote. You'll find this nifty tool under Insert > Camera. From there, simply choose what you're taking a picture of, crop appropriately, and you're all set!
This tool basically turns your phone into a mobile scanner. The "picture taking mode" choices of whiteboard, photo, or document change the camera settings as necessary to provide you with an image as good as any scanner in your office.
Say your team uses a whiteboard during a brainstorm session, and you get lost in the back and forth, forgetting to take notes. With Office Lens, everyone can have a copy of the whiteboard in their OneDrive storage. Office 365 makes collaboration so easy!
3. Use Teams for Live Chat and Video
Office 365 is trying to make internal emailing a thing of the past. With Teams, you'll be able to quickly reach out to anyone in your organization through Microsoft's new messaging app.
Group conversations, one-on-one chats, and even video conferencing is a breeze. You can share your screen, send links, and host presentations all from Teams.
The greatest feature of Teams may be the ability to add-in Microsoft apps. This allows you to collaborate on Word, Excel, or any other kind of document with team members in real time. No more emailing back and forth, you can talk to each other and edit your documents together, no matter where in the world you are!
4. Office 365 Web Portal
Portal.office.com has probably saved more hours of hassle than any other piece of software on the planet. From the 365 portal, you can access all of your OneDrive files, along with web-only versions of all your Microsoft Office software.
No driving to the office for a copy of that file. No need to install Office products on every computer you use. Access all of your files and applications from any device with an internet connection inside your browser of choice. It's that easy.
Create PowerPoint presentations, Excel spreadsheets, and Word documents in your browser with the peace of mind that comes with knowing they're automatically saved to your OneDrive, with continuous autosave.
The 365 portal brings the entire Microsoft Office suite to any internet-connected computer in the world.
5. Maximize Office 365 Benefits with an MSP!
Does your business already utilize an IT Service Provider? If not, you're missing some of the best parts of Office 365, and maybe even a better price for Microsoft's subscription-based service.
With Microsoft 365 managed support, enjoy unlimited 24/7/365 help desk support for your entire organization, along with completely redundant backups and even fully managed workstations. This will keep all of your devices running Office 365 in top shape!
Embrace all of the best in cloud computing with Office 365, combined with the security, support, and peace of mind brought by having an award-winning support team always a call or click away.
Office 365 isn't going anywhere anytime soon, and with most businesses choosing the cloud-based option over new software like Office 2019, the market share will only continue to grow for the new productivity standard.
Utilizing the tips above will keep you and your team working together seamlessly no matter where you are.
While many users are just getting used to Office 365, they may also be new to Windows 10. If that's the case for you, or if you just want a refresher, check out our webinar below, "Windows 10: Easy Tips for a Smooth Transition," where Ntiva tech expert Corey Shields will show you how to get the most out of the operating system from day one!