Let's cut to the chase. There is an extremely high likelihood that a recession is on the horizon. What will the impact be on your business and how should you prepare? Our team has gathered six top technology strategies from our top execs that can help lessen the blow!
Table of Contents:
Will There Be a Recession in 2023?
How to Prepare for a Recession in 2023 - Six Strategies
Strategy 1 - Reduce Extraneous Expenses
Strategy 2 - Ensure Existing Tech is Up to Date
Strategy 3 - Review Your Remote Work Policies
Strategy 4 - Invest in the Cloud
Strategy 5 - Upgrade Your Cybersecurity Protection
Strategy 6 - Don't Give Up on Growth and Innovation!
Key Takeaways - Preparing for Economic Downturn

Will There Be a Recession in 2023?
You've undoubtedly noticed that the media is full of speculation on this topic, mostly focused on doom and gloom. It's tempting to bury our heads in the sand – we know that bad news gets clicks, so maybe that's it!
But there are definite signs we are headed into a period of slow growth, if not a full-blown recession in 2023.
Most economists will argue that not only is a recession a part of normal financial cycles, but that we are over-due for this re-balancing in our current over-heated economy.
In fact, some look at a recession as "healthy clean-up" of overall business strategy, including lopsided or over-aggressive investing which can happen when money is cheap.
Regardless, as we reach that time of year when business leaders are thinking about budgets and strategy frameworks for next year, preparing for a downturn is certainly prudent. Most businesses are rightly concerned, and are taking steps to prioritize where, how and when they tighten the belt.
Organizations Prepare for Recession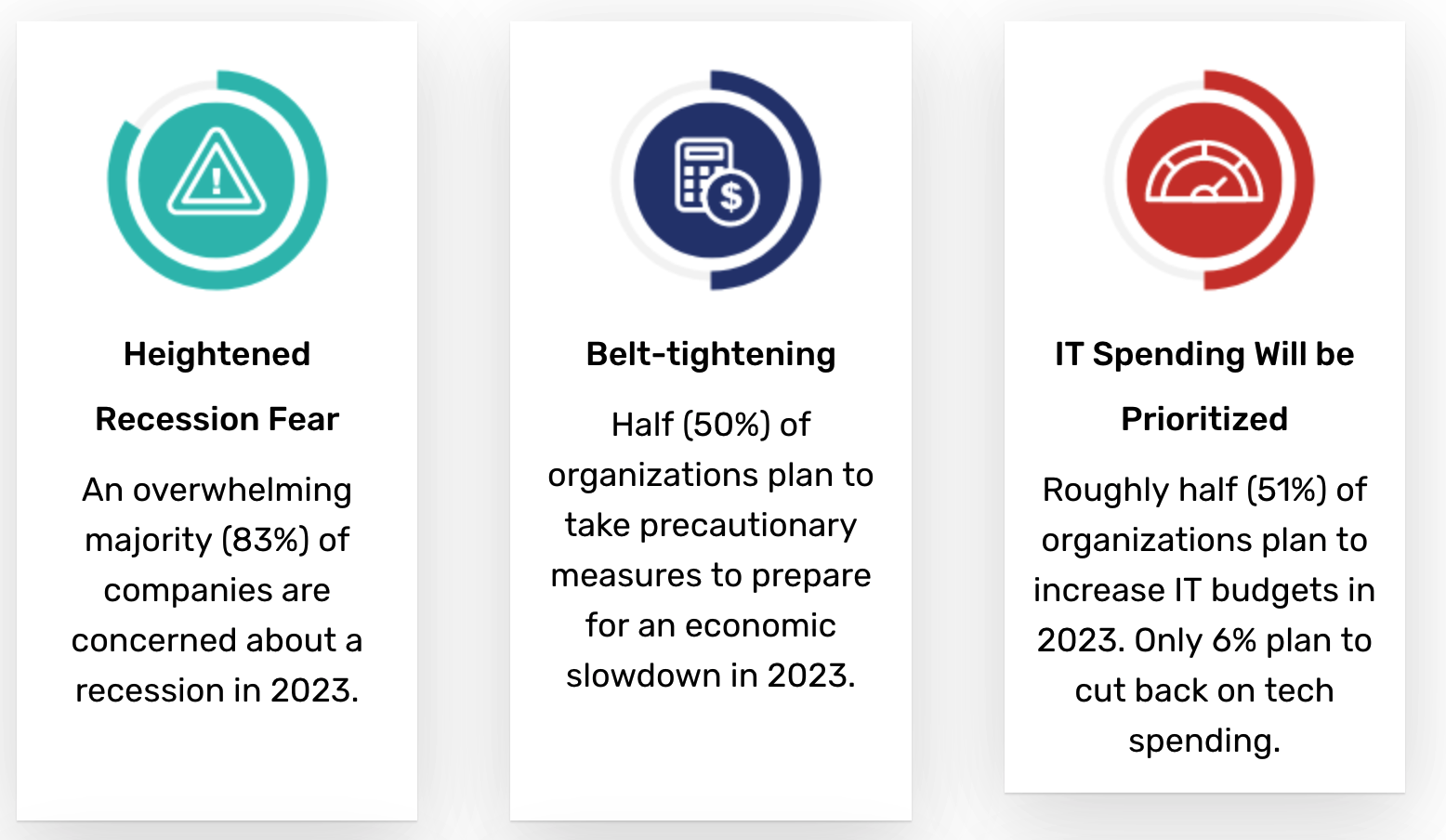 Image Courtesy of: https://swzd.com/resources/state-of-it/
How To Prepare for a Recession in 2023 – Six Strategies
Strategy #1: Reduce Extraneous Expenses
First and foremost, cutting out all possible waste in your organization should be top of the list. Clearly this is a good exercise to perform at any time, but with a possible recession simmering now is the time to DO IT.
Start by identifying any resources (office space, software, hardware, utilities, subscriptions, other tools) that are underutilized or redundant. (More on this below in Strategy #6.)


Look at your vendor relationships. Any opportunities for cost reductions or consolidation?


Look at your customers. Are there any that are a drain on your resources and cost you more to support than the revenue they produce?


Now this is a tough one. We are not suggesting rampant lay-offs before we really know what's happening, but are there divisions, products, or business goals that you were investing in for potential long term returns? You need to weigh whether this is the time to experiment in this type of investment or not.
Strategy #2: Ensure Existing Technology Is Up to Date and Utilized
Maintaining and optimizing the tools and systems you currently have in place is critical when the global economy is uncertain. Covid-19 already proved how crucial it was to have up-to-date technology for remote working in place in order to survive.


Take an inventory of existing PC's and devices and determine if this is a good time for a refresh. While this might sound counter-intuitive when budgets are tight, every device on your network should be running the most updated operating system (OS). This not only ensures your employees are at their most productive but is critical for cybersecurity protection. Recession or not, NO time is a good time for a breach or attack.


Get as much value out of your work applications as possible. For example, if you are using Microsoft 365, is it properly configured? If you're paying for an expensive subscription, make sure you have the latest updates and that you're getting the most from it. There are many hidden features in Microsoft 365 that organizations simply aren't utilizing.


Supply chains are "the first to feel the impact" of inflation and global recessions, so make sure you have an IT procurement specialist on your team (in-house or outsourced) who can help manage your sourcing and reduce overhead costs. Advance planning is key to keeping costs under control.


Automate and simplify your IT processes. Many IT maintenance functions can be automated using software systems to reduce the cost associated with repetitive work performed by IT staff. This could include job scheduling, system monitoring, patching, service provisioning and configuration, and application service delivery, to name a few.
Strategy #3: Review Your Remote Working Policies
There are tons of opinions on whether the current remote working situation is a positive or a negative. The truth is, like everything, there are pros and cons and every business has to make their own decisions.
If, after the peak of the pandemic, you brought your entire staff back into the office, you might consider whether that expensive office space is worth it or not.
Most studies claim that working remotely boosts productivity for staff members while sharply reducing overhead costs for your business.
For many organizations, it can be a win-win when you put the right technology and policies in place. However, below are some best practices you need to consider if you have not done so already!
Start with a robust remote work policy. Make sure the policy is in writing, outlines the responsibilities of both employer and user, and that users must sign, acknowledging that they read and understand what is expected from the agreement. We have a template to get you started if you need help creating a work policy agreement.


Re-evaluate your suite of collaboration and productivity tools, and make sure that you have the appropriate software solutions in place to manage a largely remote workforce.


Set up secure VPN's for each remote employee. If you are not 100% cloud-based and still have on-premises servers that remote employees need to access, this will protect your data while retaining the same security, functionality and appearance as your company network.


Re-examine your remote work security. (See Strategy #5 below). Since employees usually rely on consumer-grade Wi-Fi network connectivity, all devices should have upgraded, hardware-based security features; they are essential to foiling sophisticated cyberattacks. You may also want to investigate using a Mobile Device Management (MDM) solution for all those personal devices employees are using to access company data.


Make sure you provide help desk support 24/7. Employee productivity can soar when working from home, and many remote workers work at unusual times of the day. If you don't have the resources to support this, consider outsourcing your help desk to a third party provider.
Strategy #4: Invest in The Cloud (If You Haven't Already)
These days, most companies have some investment in cloud-based technologies, as it's one of the very best ways to cut your operating costs, scale your hardware investments and reduce downtime and data loss.
Cloud computing allows your business to be more agile, take advantage of opportunities and reduce losses by scaling up and down as needed. You can quickly add resources without interrupting your existing business operations – or take them away if you need to quickly tighten your belt.
A successful transition begins with getting a clear picture of your ROI for cloud migration. Choosing the right migration partner can help you make these decisions, and will save you money, time, and effort. They can also help you choose the best cloud provider and assist with the documentation and execution of the migration plan.
Strategy #5: Upgrade Your Cybersecurity Protection
Cybersecurity is now a much higher priority in the C-suite than it used to be, due to ever-growing threat levels.
Remote and hybrid working, the increase in the use of personal mobile devices to access company systems and data - all of this has set the stage for a hacker's dream situation.
In fact, cybersecurity is such a high priority that business leaders now consider it a "recession-proof" expense.
No matter what else gets cut, cybersecurity protection still gets top priority.
And the reason is simple; if you cannot protect your client's and customers' data from cyberattacks you may end up in serious financial trouble.
More and more businesses are demanding that their vendors carry cyber insurance, and the requirements for insurance approval are, well, stringent. To make matters even messier, many insurers only cover systems and applications failures, not human error or simple mistakes.
The good news is that solid cybersecurity protection won't break the bank. And by taking common-sense steps today to protect your organization, you can avoid the kinds of breaches that lead to big fines and lost revenue.
Strategy #6: Don't Give Up on Growth & Innovation!
Despite potential belt-tightening in the works for many businesses, IT spending is expected to remain strong, according to a Spiceworks Ziff Davis survey. A majority of companies still plan to increase their tech budgets, even while they plan to cut back on other areas.
No question you should still be looking at decommissioning outdated or redundant infrastructure, auditing SaaS software for usage, reevaluating vendor contracts, and in some cases delaying tech purchases that are "nice-to-have' but not crucial.
But most businesses still expect to invest in IT. Here are the top factors that are driving this industry trend:
Need to upgrade outdated infrastructure - the business will collapse without this.


Increased security concerns – one big breach can bring a company to its knees.


Continued support for a remote workforce – not going away any time soon.


Changes to business operations – some are considering a switch in focus.


Lack of labor market tech talent - many businesses still very low on IT headcount.
The talent shortage in particular is still a hot topic. Many businesses are already struggling with a lack of proper headcount, grappling not only with hiring but retaining as salary demands are so steep and the competition fierce.
To help off-set this talent shortage, many are increasing spending on cloud-based services and/or utilizing third-party managed services, both cost-saving measures.
Because of the skill gap, especially in cybersecurity which is a critical component, companies find that outsourcing the management of their infrastructure and applications is the most prudent choice, offering significant advantages.
Key Takeaways – Preparing for An Economic Downturn
To prepare for a likely downturn, most businesses are paring back to essentials, doubling down on areas that will most likely drive value to the business, and re-considering new investments.
The one area that appears to be untouched (yet) is technology investments. The last few years have made it extremely clear that those who were unprepared did not fare well.
These IT modernization efforts that were pushed to the forefront by the pandemic not only helped businesses survive but empowered them to thrive under difficult circumstances. Technology is now viewed more as a facilitator than an expense, and thus we see that IT spending levels are forecast to grow in 2023.
There are many ways you can ensure your IT spending and investments are on track to help our business whether the storm. Don't hesitate to reach out to us or other technology consultants to help you ensure you have the best plans in place!