Vulnerability Management 101: Scanning & Remediation
Available to watch
About This Webinar
Vulnerability management is a very deep topic, consisting of far more than just an anti-virus scan and an automated monthly report. Explore the fundamental aspects of vulnerability management in our recent webinar. Learn about the key components, stages, and lifecycle of a robust vulnerability management program. Find answers to common questions and gain insights into effectively safeguarding your business against cyber threats.
Agenda
Components Of A Vulnerability Management Program
Stages/Phases Of A Program
Vulnerability Management Life Cycle
Miscellaneous Items
Q&A
Subscribe Here!
Get the latest webinars delivered to your inbox.
Meet Your Hosts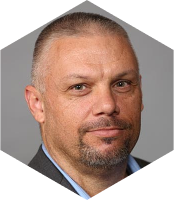 Dr. Jerry Craig.
Jerry is Ntiva's Sr. Director of Security and CISO, offering more than 20 years in the IT and cybersecurity industry. Certified CISO, CISSP and CCSP, Jerry also serves part-time as Adjunct Professor in the University of Maryland Global Campus.