Tabletop Testing: What You Need to Know
Available to watch
About This Webinar
When was the last time you really tested your network infrastructure? More than just sending out a fake phishing email to your staff for employee training; serious disaster training, with simulated failed backups and even outages? Explore the world of tabletop testing in our informative webinar! Learn how to prepare and protect your network infrastructure against disasters and cyber threats. Watch the full recording to boost your cybersecurity readiness.

Agenda
What It Is & Why It Is Important
Building Out A Program
Lessons Learned
Evidence for Auditors
Q&A
Subscribe Here!
Get the latest webinars delivered to your inbox.
Meet Your Hosts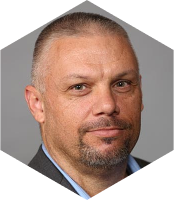 Dr. Jerry Craig.
Jerry is Ntiva's Sr. Director of Security and CISO, offering more than 20 years in the IT and cybersecurity industry. Certified CISO, CISSP and CCSP, Jerry also serves part-time as Adjunct Professor in the University of Maryland Global Campus.