Cracking the Code: IDS, IPS and SIEM Decoded for Non-Tech Titans
Available to watch
About This Webinar
This webinar decodes the world of cybersecurity! If you've ever felt lost in a sea of tech acronyms like IDS, IPS, and SIEM, we've got you covered. We'll demystify these vital elements without overwhelming you with jargon, ensuring that by the end of the webinar, you'll have a clear understanding of IDS, IPS, SIEM, and why they are essential for keeping your business secure.
Agenda
What Are They & Why Should You Care
Typical Infrastructure
Home Security Analogy
How Do IDS & IPS Work
How Does A SIEM Work
Where Does A SOC Come Into Play
Benefits & Constraints/Challenges
Q&A
Subscribe Here!
Get the latest webinars delivered to your inbox.
Meet Your Hosts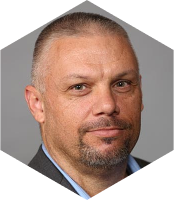 Dr. Jerry Craig.
Jerry is Ntiva's Sr. Director of Security and CISO, offering more than 20 years in the IT and cybersecurity industry. Certified CISO, CISSP and CCSP, Jerry also serves part-time as Adjunct Professor in the University of Maryland Global Campus.