Empathy – n. – the ability to understand and share the feelings of another
Sympathy – n. – feelings of pity & sorrow for someone else's misfortune
While empathy and sympathy are often misunderstood as interchangeable feelings, the two sentiments are, not the same.
The Power of the Story
Stories have been used since the ages of prehistory to portray concepts, facts, and understandings about the world that would otherwise rely on experience and folklore, only to become Chinese whispers (otherwise known as The Telephone Effect) as the information is passed from generation to generation.
The earliest civilizations of hunter and gatherers, From Genesis to Revelation, Aristotle to Stephen King, and Dr. Seuss to Shel Silverstein, the stories with which we grow up are lessons learned for a lifetime – parables, allegories, fact, fiction, The Hero's Journey, etc… – the annals of experience are captured and ingrained into us to relate to and understand day-in and day-out, without even realizing it.
The Power of the User Story
"Pat, I'm going to sell you this car because yours is old and you need a new one."
"Alright."
Unless this car salesperson is Charles Xavier, this is probably not how vehicle shopping is going to go for Pat. Instead, our salesperson wants to understand Pat's motivations and needs, and Pat wants our salesperson to understand the same, because that is what will give Pat the vehicle best suited for his/her needs. Instead of the scenario above, let's try something a bit more discovery oriented.
"Hi Pat, thanks for coming in. You said on the phone that your family is growing, and you need a bigger vehicle. Is that right?"
"That's right. Sam & I are adopting a dog."
"What kind of dog are you getting? Is it going to be a big one? Plan to take some road trips with Spot?"
Pat & Sam had been thinking about taking a week off of work to road trip to a cabin in Wisconsin.
"You know, with this virus going around, we wanted to get out of the city and into nature more. It's kind of been a wakeup call for us."
"When you park at home, do you park on the street or in a garage?"
"Well, we live in an apartment building that has street parking."
"Do you take a lot of long-trips or a lot of city driving?"
"Mostly city driving because I work in the city and Sam works from home four days a week. I took him/her to work the other day."
From this discovery session, our car salesperson is able to identify key needs for Pat & Sam, as well as compare those needs to the available models & types of vehicles that meet those needs. Let's break the Q&A session down into some key points:
A growing family usually means they need more room than a sports car. No Camaro, Corvette, or Lamborghini Gallardo here.
Dog + road trip = probably not many baths. Means that the back of the car (or seats) should be easy to clean. No cloth, so leather or vinyl.
City living and street parking would greatly benefit from a backup camera. This will help prevent accidental collisions, fender-benders, and a much simpler experience for parallel parking.
City work commuting could benefit from a hybrid car. But not a plug-in hybrid (due to parking on the street), so something with regenerative braking.
A quick Autotrader search with the above filters result in several vehicles that match the description and needs of Pat & Sam. A Volvo XC90, Toyota RAV4, or a Lexus RX450h could do the trick. All are SUV's with backup cameras, AWD, regenerative-braking hybrid engines, leather or faux-leather seating, with plenty of space in the back to throw the seats down and give Spot room next to the cooler for their road trip to Wisconsin.
The Power of Storytelling for User Experience
The above is an example that could work in a perfect world. However, in today's society, most car salespeople earn their living by selling a vehicle at a profit and are typically driven to sell a higher-priced car. If a salesperson makes 5% on each sale, for example, a $10,000 sale would net $500 commission. However, a $75,000 sale would mean a commission check of $3,750 – a considerably heftier bonus.
The difference between a car salesperson and a UX consultant is that the UX consultant's goal is to give the user exactly what they need in the best possible package at the lowest cost to the agency and the client. In most software development consultancy firms, someone ends up overpaying for one of two reasons:
most often, the customer overpays because of an incomplete discovery, too many variables and unknowns, or change orders that end up changing the scope of development into something beyond what was expected,
the firm writes off hours and loses money.
The Power of Storytelling for User Experience then lies in its ability to define, produce, refine, and develop a full solution that addresses the needs of the users in the most efficient and comprehensive way possible. This method reduces the user excessive options and distractions by making something become a Swiss Army Knife. (?)
Simply put, UX storytelling isn't just about discovering what users want, it's about developing a framework that speaks to what they need and delivers content that is concise and contextually relevant.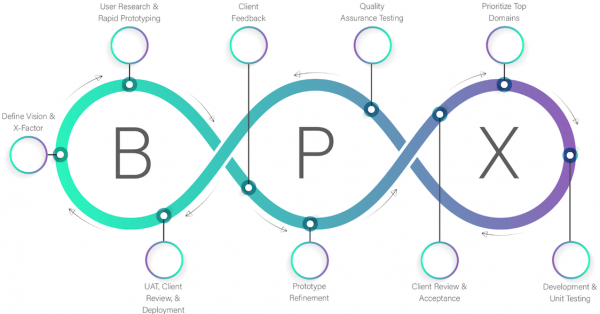 UX design storytelling happens as we define the Vision of the product, which leads us into user research. Following the user research is rapid prototyping based on the vision & findings in the research. As we narrow down the needs, the prototypes can be refined into a more streamlined approach to the software or product we design. We do not need a vacuum cleaner that also is an e-reader, after all.
The Power of Empathy
Storytelling is the most powerful tool of a designer, salesperson, author, politician, lawyer, or anyone who is responsible for communication, persuasion, teaching, or learning. It is how we, as humans, connect ourselves with the world we understand and the worlds we do not understand. It is our tether to those around us, the anchor to the land beneath our feet. And yet, a story is the rocket that will take us to the moon and Mars and the stars beyond. Stories grounded in empathy are what allow us to connect with one another – to put ourselves in their shoes, and to solve the problems for our neighbors and friends.
"The past and present wilt-I have fill'd them, emptied them.
And proceed to fill my next fold of the future.
Listener up there! what have you to confide to me?
Look in my face while I snuff the sidle of evening,
(Talk honestly, no one else hears you, and I stay only a
minute longer.)
Do I contradict myself?
Very well then I contradict myself,
(I am large, I contain multitudes.)
I concentrate toward them that are nigh, I wait on the door-slab.
Who has done his day's work? who will soonest be through
with his supper?
Who wishes to walk with me?
Will you speak before I am gone? will you prove already too late?"
"-Walt Whitman, Song of Myself, 51
If you would like to talk with the Ntiva UX/UI Design Team about how they can help you with your next project and storytelling in UX, reach out anytime.