You've likely heard some rumblings about pricing changes for some commercial Microsoft 365 and Office 365 products coming this March. Microsoft is transitioning to a new licensing purchase platform, New Commerce Experience. For 2022, they are rolling out new pricing and purchasing processes for specific license types and services.

In a recent webinar, we introduced Microsoft's New Commerce Experience, its features, the value it will offer, and what these changes mean for your business.


Watch the Webinar: "Microsoft 2022 Price Hikes Explained"

TABLE OF CONTENTS

Upcoming Changes to Microsoft 365


What is the New Commerce Experience (NCE)?

Microsoft 365 Trial Period Licensing

Microsoft 365 Price Promotions for Early Birds


Microsoft 365 Subscription Options in NCE


Summary: Big Changes with Big Benefits

Upcoming Changes to Microsoft 365
The price changes that will go into effect March 1, 2022, will affect current commercial users of Microsoft 365 with legacy licensing.
Legacy licensing is any seat- or device-based licensing. Basically, if you're using Office 365 E3 or Exchange Online (Plan 1) Intune today, it's deemed legacy licensing. Note: If you're a nonprofit customer or an education customer, this price increase does not impact you as a business. The price increase is only for commercial and Government Community Cloud (GCC) users.
Here are the services these price changes will apply to, along with the new pricing

At the new price, all subscriptions that include Teams will also include Audio Conferencing (Call in Dialing) which is currently $4. So, if you were paying for that as an add-on, it is now included.


Any Microsoft Office license subscriptions with end dates that occur after March 1, 2022, regardless of payment frequency terms, will be converted from the legacy license to the new pricing model as of that date. The new pricing will be applied to all the different licensing types purchased via Microsoft's New Commerce Experience platform.


The Government Community Cloud (GCC) service users will not be transitioning to the New Commerce Experience platform.
What Is the New Commerce Experience (NCE)?
The New Commerce Experience (NCE) isn't new for Microsoft, it's just new to the services mentioned above that are converting from legacy licensing in March. If you're using Azure, you've already gone through the experience of transitioning to the new commerce platform.
As you migrate to NCE, there are two subscription term options available to your business: a one-year or a three-year term.
While these term options were potentially possible under the legacy licenses, few businesses took advantage of them because there was no penalty for downgrading from 35 licenses to 30. NCE will change that.
NCE Annual Term: If you buy an Office E3 license for 25 users on an annual term, you're locked into those 25 users for the full year term. You can't downgrade within the year without canceling the subscription entirely, and even that has to be done within the first 72 hours (not business hours) of purchase.
NCE Three-Year Term: The three-year option, which will be available come March, will allow you to lock in the new price point for three years. While we haven't heard of any further price increases Microsoft has planned, it does ensure you'll pay no more than the price at the time you purchase the new license.
The takeaway? With NCE, it will be wise to carefully estimate the actual number of seats you will need for the length of the license term so you don't end up paying for seats you don't need.
Other NCE Payment Options
Both the NCE annual and three-year licenses give you the option of doing a lump sum payment upfront, or a monthly payment throughout the whole term of the license.
Just as with legacy licensing, you have the option of doing monthly subscriptions. However, there is a 20% increase on the monthly license price over the annual commitment.
Be aware that not all services can be licensed on a monthly subscription: Only the main SKUs like Microsoft Business Basics, Business Premium and the E5s. If you're using additional services like Microsoft Project, Azure Active Directory, T1, T2, Office Defender, etc., you would have to buy those on an annualized license.
In other words, the month-to-month flexibility you may have enjoyed with legacy licensing will come at a higher price with NCE.
Microsoft 365 Trial Period Licensing
NCE will simplify the transition from a trial period to a full license for monthly licenses.
Previously, the trial license SKU was unique. If you purchased a subscription at the end of the trial, it would be a different SKU for that subscription and you would have to move your users over. Now, after the 30 days of the trial, the subscription auto-renews as a paid monthly subscription.
That simplified process doesn't apply to annual licenses, though. Should you want to convert to an annual license after the trial period, you would have to swap your users to a new SKU.
This is good to know upfront, so you can balance the value of the free trial against the potential workload if you are likely to go with an annual license.
Gaming the Timing
You're aware of the March 1 date when the price increase kicks in, but there are some other dates you should be aware of to make the best decision on license subscriptions for your business.
On March 10, 2022, any new subscriptions will have to be purchased on NCE and the legacy licensing platform is going away.
We recommend you purchase by March 1 to lock in legacy pricing at an annual term.
Let's say on March 10, you decide to purchase Microsoft Business Premium because you want to take advantage of the bundled Azure AD or Intune. However, from that date on, all purchases would have to be made on NCE. You will no longer have access to the legacy licensing platform to purchase those SKUs. The same would be true of add-on SKUs like Visio's (Plan 1) or (Plan 2). Those would also need to be purchased on NCE as an annual license.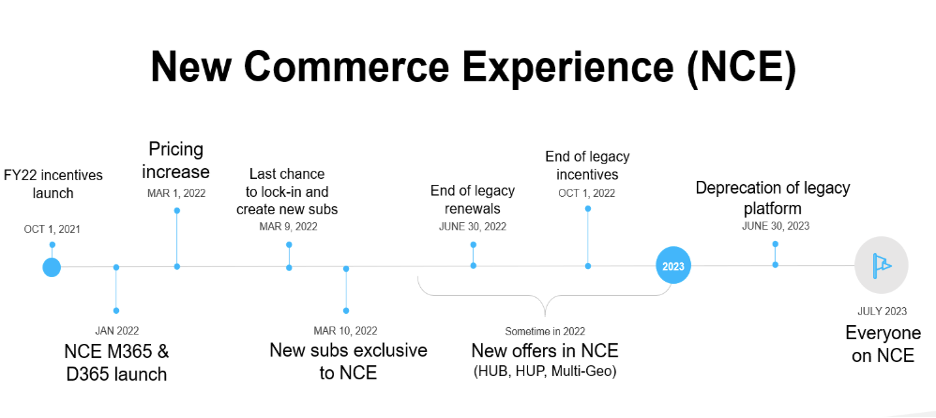 As we mentioned earlier, any legacy subscriptions with a term or end date after March 1 and before June 30 will reflect the new pricing.
Any legacy license with a subscription end date after June 30 will not be able to automatically renew and will need to be purchased as a new subscription on the NCE. This is Microsoft's way of slowly depreciating the legacy platform by June 30, 2023.
Microsoft 365 Price Promotions for Early Birds
Microsoft is offering price promotions to get commercial businesses to transition to NCE earlier, including potentially keeping the same price point for an SKU you're currently paying within legacy licensing:
These charts show the head-to-head comparison of the price promotion you can take advantage of if you move to NCE prior to March 1, for both the monthly subscription, the annual price paid upfront, and the annual price paid monthly.


Microsoft 365 Subscription Options in NCE
While some of the flexibility customers had in legacy licensing is going away, NCE provides new options to adapt licensing to your business circumstances:
Customers will be able to mix and match annual and monthly subscriptions for the same service within NCE. This can be a real benefit from companies with seasonal-based employees.
A perfect example is an accounting firm that ramps up from 25 employees to 30 for the busy audit season. As an organization, it makes sense to purchase 25 annual license to take advantage of the lower price point, then pay the 20% premium for monthly licenses for those five additional users.
NCE also gives companies the ability to upgrade from monthly to longer terms. If you're not ready to commit to an annualized license at first, you can start with monthly and then upgrade to an annual subscription later. Keep in mind that while upgrading is possible, downgrading is not.


The license count can also be increased for a subscription at any point within the term.


There is a possibility some SKUs will be available to upgrade during a term without paying a penalty, just the additional cost for the remainder of the term.
Summary: Big Changes with Big Benefits
Microsoft has not had a major pricing update on Microsoft 365 in 10 years. In that same time, they have put a lot of development into the platform by adding high-value apps like Teams, Power BI and OneDrive, along with security features and automation capabilities.
With NCE, they are adding robust options for businesses within the same product set, and more avenues to use different SKUs throughout the year.
While the price is going up, there are promotions that can help keep your cost at a lower price point per year, especially if you take advantage of the annual licenses.
You may have questions about all the upcoming changes. Ntiva is here to help you navigate Microsoft's NCE transition and price increase so you get the advantages of this new platform.