Every person is unique. We all have our own likes, our own quirks, and our own unsecure devices.
Of course, what we choose to install and how we decide to protect the mobile devices we purchase is our own personal decision. Bringing all those unsecure devices into your place of business on your secure network, however, creates what we like to call the BYOD NIGHTMARE.
With the rise of smartphones and tablets, Bring Your Own Device (BYOD) situations have become normal, especially for business that involves any kind of travel or remote work. Employees use their own cell phone or tablet for work, while usually receiving a monthly allowance from their employer.
Mobile device security is a huge issue. How can you prevent all of these devices from becoming individual spies and thieves on your network? It takes some work, but with clear policies, polished and tight network security, and some employee training, everyone can bring their own devices without causing you to lose sleep at night.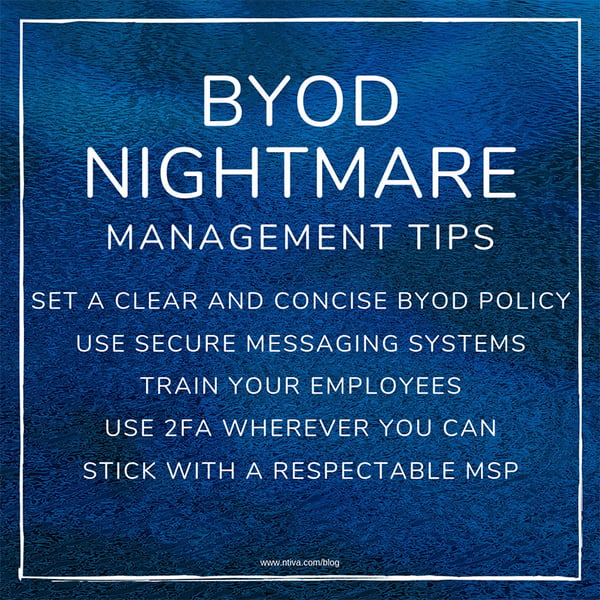 Set a Concise and Clear BYOD Policy
Before anything else, you need a BYOD Policy. It needs to lay out the details for your entire organization, and what is expected of each device that enters your secure network. Every employee needs to sign the agreement.
The BYOD Policy needs to include things like employer and user responsibilities, a software application for managing the devices on the network, and a signed agreement stating that every employee understands and will comply. There are BYOD templates to get you started available all over the web.
BYOD use is growing every year, and most businesses believe it's a good thing. After all, there's no learning curve to the device your employees already own. They also have it with them all day every day, and probably have email notifications turned on all the time, unless they practice a healthy work-life balance.
Without a good BYOD policy, you're simply not safe. What if something happens, and an employee's iPhone manages to bring spyware onto your company's network? Even if you can prove it, your case may be in legal gray area without a signed copy of the employee's BYOD policy.
Use Secure Messaging Systems
You value your data, don't you? You can protect it behind secured data centers with state of the art security and on a network with all kinds of endpoint security, but if you're transferring the data over an unsecure messaging channel, you're still at risk.
If you're using Office 365, you should be taking advantage of Microsoft Teams.
With an Office 365 E3 license, you'll be able to use Teams for all of your messaging. Video, audio, and text-based chat are all secured. Transfer files back and forth with enforced multi-factor authentication and full-time data encryption.
Even if you don't want to use Office 365, the free version of Teams will at least give you a secure location to chat over text and securely transfer files. Don't let something as simple as the channel of communication cost you your data!
Train Your Employees on Mobile Device Security
No matter what your organization does, chances are, your employees don't have enough cyber security training, which is an even bigger problem on mobile devices. Phishing emails affect every single employee in any business in the world. Without proper knowledge and training of end users, your business will eventually be the victim of a phishing attack.
Data breaches are becoming commonplace in our tech-based world. Costing an average of $3.5 million per breach, your company simply can't afford the risk. The only solution to this problem is phishing prevention training.
With phishing prevention training, your employees will be taught what to look for in a malicious email, with interactive guidance, and even discrete random testing throughout the year with results reported directly back to you.
No piece of security software is going to keep you safe from untrained employees. The bad guys know this, and you should too.
Use Two-Factor Authentication Everywhere You Can
These days, even your best password practices aren't good enough for real data protection. You absolutely must use multi-factor authentication whenever it's available.
Two-factor authentication (2FA, also known as multi-factor authentication or MFA) makes sure that only verified users can access online applications and accounts by requiring an extra layer of security, usually involving the user's cell phone. Enter your password, verify from your cell phone, and you're in!
Most accounts today offer some sort of multi-step verification process. Even your social media accounts can be enabled to confirm your identity through your phone number. Combining something you know (your password) with something you have (your phone) helps ensure that your accounts are safe.
With 2FA, a stolen password isn't enough!
Learn more about 2FA in this short video from Duo, Ntiva's choice for 2FA services!
Stick with a Respectable IT Service Provider
IT service providers are a dime a dozen. They all say they're the best at what they do and provide you with top notch service. But what should you look for in a provider?
Size – Make sure the IT provider is large enough to handle your entire network. This includes hardware, software, endpoint, and most importantly, user issues.
Awards – Some awards, you can simply purchase. Others, you have to earn. Look for awards from reputable organizations, such as the Stevie Awards or CRN. These operations take hard, objective looks at different aspects of customer service and overall IT service. If you find a winner, you can know you're in good hands.
Word of Mouth – Ask around! Everyone in the white-collar world has an IT guy or Managed Service Provider (MSP) working for them. Some are good, some are bad. The best way to know is to simply ask a trusted source.
A good MSP will keep your business running smoothly, take all of your IT stresses off your plate, and help manage even the most stubborn end users. They'll help you create a BYOD policy that you can use for years to come, and will help with any updates to the document or your IT operations to keep you, your employees, and your data safe.
You can't control what's on your employees' devices, but you can control what happens on your organization's network. It just takes some time and effort.
With a BYOD policy, employee training, and an IT Service Provider backing you up, even the devices with malicious software won't stand a chance on your network.
If you enjoyed learning about BYOD policies and how they can help your organization's digital security, check out our latest webinar on cloud collaboration platforms. Our subject matter expert will show you how your business can remain secure while working anywhere in the world!