How vulnerable is your organization at this very moment to a successful cyberattack? Are you defenseless, are you well protected or are you—like most companies—somewhere in between?

A security maturity model takes the uncertainty out of this question, so you know exactly how prepared you are … and how to improve.

Read on to learn how a security maturity model works and why it's an essential first step for every business's security journey.

The Security Maturity Model Explained
Business leaders today are no longer treating cybersecurity as simply one of many functions of their IT department.
They are instead elevating cybersecurity to a mission-critical function that can make or break their business, depending on how mature their security is.
<<How vulnerable is your business? Take the Security Maturity Model Quiz now!>>
The Ntiva security maturity model is a scorecard that will result in a plan.
As a scorecard, it indicates an organization's attitude toward cybersecurity and their level of preparedness for fending off attacks.


As a plan, it shows organizations what they need to do to improve their security posture and move up to the next level of maturity.
In general, a security maturity model will typically use five or six levels to depict the different cybersecurity maturity stages.
As an example, here is Ntiva's own breakdown of the security maturity model by level.
Ntiva Security Maturity Model - Levels
0

1

2

3

4

5

Exposed

Every aspect of your business is at risk.

Vulnerable

You are low-hanging fruit for hackers.

Minimum

You have the minimum in cybersecurity defenses.

Evolving

You are deploying some best practices.

Certifiable

You are ready for some security certifications.

Mature

You are employing robust data protection.

You have no processes in place to protect your organization.

You may have processes in place, but they're loosely defined, ad hoc and reactive.

You have processes and policies, but implementation and use are still inconsistent.

You have documented and defined processes and have deployed some technologies to detect and defend against attackers.

.

You have imposed structure around how IT supports the business and are refining your processes for greater effectiveness.

You have repeatable (and regularly monitored) processes, a strong culture of cybersecurity and have deployed reporting, automation and other tools.
As you can see, the security maturity model gives you a score that indicates how mature your approach to cybersecurity is.

At one end of the model you have immature organizations, those with minimal defenses, few policies and no plans to speak of.

At the other end of the model you find mature organizations who are deploying extensive defenses, use industry best practices, maintain security certifications, and in every other way employ robust protection against cyberattacks.

The table below, courtesy of the Enterprise Strategy Group, breaks down the security maturity model into even finer detail. While it only depicts three levels, it paints an excellent portrait of how your level of maturity depends on your philosophy, people, process and technology.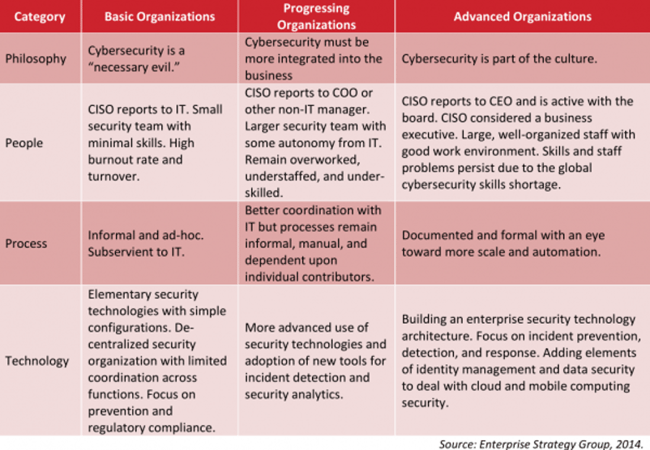 Why Do You Need a Security Maturity Model Assessment?
As mentioned, knowing your security maturity level gives you an excellent analysis of how your organization's cybersecurity stacks up, and is a crucial piece of the risk management puzzle.
This is a worthy exercise in itself, but it's taking on increased urgency in the post-pandemic era.
Between remote work and the rush to the cloud, many businesses have yet to stop and ask what they're doing to protect their increased digital footprint – leaving themselves vulnerable.
In fact, according to PwC, half or more of the CISOs and CIOs surveyed have not fully mitigated the risks that come along with remote work, increased digitization or accelerated cloud adoption.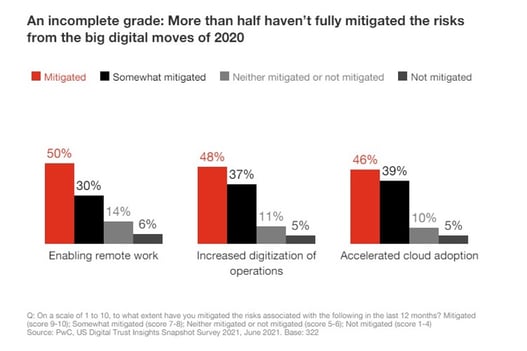 Cyber-attackers are well aware of this, and have been stepping up their game, deploying more ransomware attacks, more supply chain attacks, more cloud services attacks and alarmingly, more attacks on research and development as well as infrastructure.
This is the new war.
And if you don't know how strong your defenses are, trust us: Someone will be testing them for you sooner rather than later.
How To Get Your Security Maturity Score
Assessing your own security maturity may be tempting, but is not always the best approach.
Why? Because as the saying goes, you don't know what you don't know.
Instead, an independent security model assessment can uncover weak points that may have flown under your radar, giving you an objective, 360-degree picture of where your security is strong – and where it's not.
Ntiva's unique Security Maturity Questionnaire helps you discover your current security maturity level and score.
On a scale from 0 to 100, it will show you just how mature your organization is today, based on the current security services you have in place.
However, even if you receive a high score, you may still be missing core elements that are considered security "must-haves!"
The security maturity questionnaire consists of yes or no questions. While not identified on the questionnaire itself, each question has a level associated with it.
At the end of the questionnaire, you may well receive a fairly high score, let's say 90 out of 100. Sounds great! And it does mean you have a lot of security systems and procedures in place.
However, let's say you answered "No" or "I don't know" to a question that is considered a Level 1 requirement.
You will automatically be designated Level 1 (Vulnerable!) even if you have answered "Yes" to many of the other questions.
Let's break that down with a good example.
One of the Level 1 questions is "Do you have multi factor authentication (MFA)."
It is well known that MFA is considered table stakes these days to keep your online applications safe, especially with remote employees using cloud-based apps more than ever.
If you do not have MFA deployed, it doesn't matter what else you have in place – you are squarely identified as Level 1 – Vulnerable!
You cannot move up to a new Level without answering "Yes" to all questions for the current Level and all lower Levels.
We know this sounds complicated, which is why we recommend that you work with Ntiva or other IT cybersecurity professional to review your results, and help you plan out your next steps.
The Bottom Line for Security Maturity
Want to assess your current security standing and then develop a proactive plan to protect your organization?
Complete your Security Maturity Questionnaire now and you will be directed to a sign-up page where you have the option to request assistance in reviewing your results.
If you would like more information ahead of time, don't hesitate to reach out to us!