Someday, this pandemic will be over. We'll be able to go back to our normal schedules of school drop-offs, heading to the gym, and going to the mall. But the way many people work will be changed forever.
One small positive of this quarantine has been the rapid expansion of remote work, and there is a high probability that lots of us will be staying in this situation, even after we're allowed to go back to the office.
<<View our COVID-19 Resource Page>>
Now that we've settled into this routine of working in our home offices, have you noticed your productivity increase? Are you becoming a video conferencing master? If you or your favorite IT consulting services provider know how to properly secure remote workers, your new distributed offices can be the most productive place you've ever worked!
Remote Work is Here to Stay Across Many Industries
Everyone is flocking to Zoom and Microsoft Teams. Social media is flooded with images of workers in their homes trying to get work done. There were some kinks at first, like getting everyone to mute their line and share the appropriate window on their screens, but we've all got it now! Owners, managers, and employees are seeing just how much they can get done in their comfy sweatpants.
Now that it's a smooth process, there will be some that don't want to give it up. Of course, there are the extroverts among us that need the office buzz to stay motivated and happy, but many will want to continue remote working at least part time.
Employers should look at this as a potential perk for those in the company that want it. If there is no direct impact to the business, and the employee's performance doesn't drop, why not allow it? If enough employees start to participate, it can actually save you money on things like supplies, utility bills, and office space.
Before the pandemic sent everyone indoors, we wrote a piece asking, "Is Your Business Really Prepared to Telework?" In this blog, we noted that everyone must have four things to successfully work outside the office:
Employee desire
Necessary hardware
Necessary software
Necessary security
The pandemic certainly took care of number one, but the other two are what have been driving our company to record-setting cases per day. So many businesses simply weren't prepared to have their employees go remote. From lack of laptops and mobile devices, to no remote access software configuration, it's clear that most weren't ready for this.
But now, there is no excuse. When life goes back to "normal," businesses should maintain the remote infrastructure that has been created. Keep those laptops updated, and make sure all of them can access company data remotely. This will make the next remote-required event much easier to handle!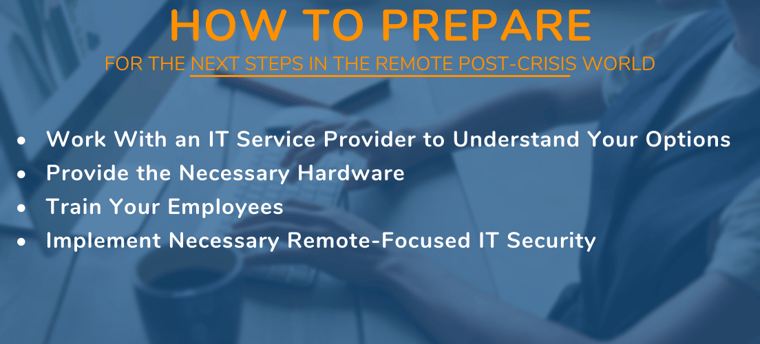 Even if You Don't Go Remote, Knowing How Your Business Can is a Requirement
You don't have to be an international conglomerate to utilize remote working configurations. It's our belief that any business with the potential to work remotely, should at least configure and test this setup periodically.
Think about if your business had already been remotely setup in February of 2020. The pandemic would still be a trying and emotional time for all of us, but the health and safety of your employees wouldn't be as much of a concern, knowing they were all capable of working in the safety of their homes.
There are a few things you must do to begin the process of remote configuration.
1. Work with Your IT Team to Understand Your Options. Without a guiding, experienced hand, configuring remote access to your company data for all of your employees is nearly impossible.
If you're currently working with a small IT department, they can't handle the amount of configuration necessary for a successful transition. Co-Managed IT can help take the configuration load off of your current team, and free them up to keep your business running in the day-to-day aspect.
2. Provide the Necessary Hardware. This usually consists of a laptop with webcam, and maybe a headset of some sort. If your company is using a cloud telephony provider, you may be able to forward all office phones to the necessary cell phones.
From Facebook, to your online bank, to Office 365, every login needs to require a second form of authentication, usually through a text or email, to verify your identity. This way, even if your account information is stolen, the cyber thieves still won't be able to access your data.
We've talked about MFA in our blogs quite a bit, but it's for good reason! MFA is the absolute best option to keep your accounts and data safe. It's hard to put a dollar amount on the peace of mind it will bring to your life.
Also, if your business isn't using a unified communication (UCaaS) platform, you need to look into it! Remote business telephony allows your office phone to go with you anywhere in the world. Integrated softphone apps can enable you to handle conference calls, voicemail, and CRM integration while you're working remotely.

3. Train Your Employees. From an end-user perspective, cloud computing isn't a very complicated process. For most, the user simply opens their remote access software and is able to access a virtual desktop, representing their office computer.
For others, it's as simple as opening their Office 365 account from the laptop, and continuing work as usual. With O365, documents are autosaved to the cloud, allowing for access to files anywhere in the world on a device with an internet connection. The beauty of cloud computing!
We've written quite a bit on how to succeed with remote teams, and it essentially comes down to training and communication. It's amazing to see how successful our clients are with just a bit of guidance!
4. Implement the Necessary Remote-Focused IT Security. This is an often-overlooked component of remote working. Multi-factor authentication (MFA) is step one in any secure working environment. Adding an extra layer of security to the login process keeps your data safe even if a password is stolen.
Another piece of the security puzzle is Endpoint Detection and Response (EDR). This is security software that monitors the devices accessing your data. Using sophisticated AI software, EDR detects potential attacks in their earliest stages and responds with automated routines to halt those attacks.
The final piece of basic IT security is Phishing Prevention Training. More than 90% of all security incidents start with phishing attacks aimed at unsuspecting employees. There is no mail filter out there that can stop every phishing email from coming in. Phishing prevention training ensures that your employees know what to look for, and can spot a phishing attempt when they inevitably receive on in their inbox.
NOTE: If your company is currently experiencing issues with telecommuting or accessing remote data, please reach out to us. We've helped many new clients who are in emergency situations thanks to stay-at-home orders during the pandemic.
IT Service Providers Can Help Navigate the Best Path Forward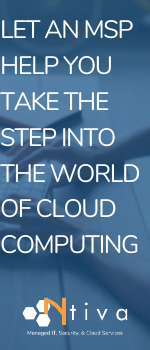 This isn't a sales pitch; this is a fact. Managed Service Providers (MSP) have been at this for years, enabling companies of every size in every industry to work across the globe, promising connection and collaboration during natural disasters, pandemics, and even just a late Thursday evening shift.
Through things like Desktop as a Service (DaaS), Software as a Service (SaaS), and Infrastructure as a Service (IaaS), MSPs decentralize the technology required for your business to operate, and provide proactive maintenance, updates, and support for the hardware and software you need.
We've seen the future of remote offices, and we've been helping businesses tailor their own custom remote setup for over a decade. Don't go at this alone. Don't expect your IT guy to virtualize your entire network. Let an MSP help you take the step into the world of cloud computing.
Technology Will Now Contribute Even More to Society
Every industry relies on technology, be it for design, storage, or communication, and that reliance will only grow once the pandemic slows. Look at the new ways everyday industries are being impacted.
Education – Our teachers are working endlessly to try and provide a decent education to our kids during these strange days. Remote classrooms and online curriculum are now becoming a normal part of our lives. Keeping the kids' attention may be even more challenging today!
Healthcare – Doctors and nurses are using telehealth options now to see patients in rural areas, or in areas where COVID-19 has overwhelmed hospitals. This is a huge step in flattening the curve, and will keep those with unrelated illnesses in the best possible shape.
Finance – Businesses of all shapes and sizes are looking for assistance on the recently announced Federal Economic Stimulus Package, and without remote IT configurations, most financial businesses wouldn't be open to assist their small business clients with the relief they absolutely must have.
These newfound improvements to the way these necessary jobs are performed won't go away with the fall of COVID-19. Technology and remote communications will continue to grow into all essential industries across the nation.
Another Crisis Will Come, Make Sure A Solid Backup and Disaster Recovery Plan Is In Place!
Pandemics don't come along every year, but inclement weather and natural disasters do. You don't want your employees risking their health and safety just to get their desk computer or the office server room.
What if you only keep company data on one physical server in the office? Backup and disaster recovery (BDR) can literally save your business. With redundant backups, you can be sure that no matter happens in or around your office, the data you need to keep going is safe.
We've seen everything from simple hardware failures to building fires, and without a solid BDR plan, these organizations could have lost everything.
Every organization is different, and even if remote work isn't the best full-time method for your business, at a minimum, you need to be sure that it is an option. If your business can't operate remotely, there is a high likelihood of collapse in hard times such as these.
No matter the industry, remote redundant backups and IT security are an absolute must. Remote management of your IT infrastructure will keep you going through hard times, and a great IT service provider can help! Let us show you what we can do for your business. Click the link below to schedule a personalized consultation.