Eventually, the pandemic of 2020 - and possible 2021 - will subside. We'll be able to go back to our normal schedules of school drop-offs, heading to the gym, and going to the mall. But the way many people work will be changed forever.
One small positive of this quarantine has been the rapid expansion and acceptance of remote work. It's estimated that up to 30% of workers will want to remain working from home, even when going back into the office is an option.
Many have noticed productivity increases as well as an improved work-life balance when working from home. Others find themselves distracted, have feeling of isolation and simply can't wait to get back to the office.
Either way, we do expect the remote working model to continue in a big way for many employees, so let's take a look at the best way to prepare.
How To Prepare For Remote Working
Before the pandemic sent everyone indoors, we wrote a piece asking, "Is Your Business Really Prepared to Telework?"
In this blog, we noted that everyone must have four things to successfully work outside the office:
Employee desire
Necessary hardware
Necessary software
Necessary security
The pandemic certainly took care of number one, but the next two on the list are what caused many companies to struggle, and the third is likely something most organizations have STILL not mastered.
As an IT Services Provider who was overwhelmed with help desk calls in March 2020, it was very clear that most businesses simply weren't prepared to have their entire staff go remote. From lack of laptops and mobile devices, to no remote access software configuration, it was a huge challenge.
Most organizations have now got the hang of it, but as we move to a potentially permanent situation for a large percentage of employees, there are four key areas you should make sure you have nailed: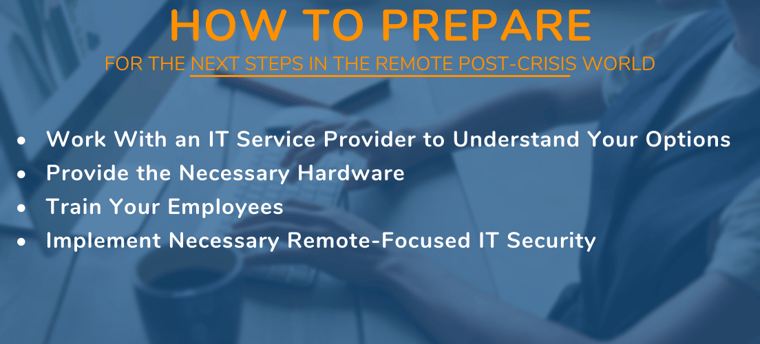 1. Work with Your IT Team to Understand Your Options. Without a guiding, experienced hand, configuring remote access to your company data for all of your employees is nearly impossible.
If you're currently working with a small IT department, it will be a challenge to handle the amount of configuration necessary for a successful transition. Getting assistance from a reputable Managed Services Provider (MSP) can help take the configuration load off of your current team, and free them up to keep your business running in the day-to-day aspect.
2. Provide the Necessary Hardware and Software. This usually consists of a laptop with webcam, and maybe a headset of some sort. If your company is using a cloud telephony provider, you may be able to forward all office phones to the necessary cell phones.
From Facebook, to your online bank, to Microsoft 365, every login these days needs to require a second form of authentication, usually through a text or email, to verify your identity. This way, even if your account information is stolen, the cyber thieves still won't be able to access your data. The solution for this is Multi Factor Authentication (MFA.)
We've talked about MFA in our blogs quite a bit, but it's for good reason! MFA is the absolute best option to keep your accounts and data safe. It's hard to put a dollar amount on the peace of mind it will bring to your life.
Also, if your business isn't using an advanced communications platform, you need to investigate the benefits. Cloud-hosted business telephony solutions allow your office phone to go with you anywhere in the world. Integrated softphone apps can enable you to handle conference calls, voicemail, and CRM integration while you're working remotely.

3. Train Your Employees. From an end-user perspective, cloud computing isn't a very complicated process. For most, the user simply opens their remote access software and is able to access a virtual desktop, representing their office computer.
For others, it's as simple as opening their Microsoft Office 365 account from the laptop, and continuing work as usual. With Microsoft 365, documents are autosaved to the cloud, allowing for access to files anywhere in the world on a device with an internet connection. The beauty of cloud computing!
We've written quite a bit on how to succeed with remote teams, and it essentially comes down to training and communication. It's amazing to see how successful our clients are with just a bit of guidance!
4. Implement Remote-Focused IT Security. This is an often-overlooked component of remote working. As mentioned above, Multi-factor authentication (MFA) is an important first step in any secure working environment.
Another important piece of the remote security puzzle is Endpoint Detection and Response (EDR). This is security software that monitors the devices accessing your data. Using sophisticated AI software, EDR detects potential attacks in their earliest stages and responds with automated routines to halt those attacks.
We also suggest looking into Mobile Device Management (MDM) tools such as Microsoft Intune, which can be used to manage and monitor all those remote applications and devices that employees are using, including personal devices.
And don't forget about your end users! More than 90% of all security incidents start with phishing attacks aimed at unsuspecting employees. There is no mail filter out there that can stop every phishing email from coming in. Take advantage of Phishing Prevention Training to ensure that your employees know what to look for, and can spot a phishing attempt when they inevitably receive on in their inbox.
5. Make Sure You Have A Solid Backup and Recovery Solution. Last but not least, make sure you have the latest in backup and disaster recovery (BDR), which can literally save your business. Today's businesses are creating more data than ever before, and protecting that data is a priority. This calls for a robust data backup and disaster recovery solution that forms the foundation for business continuity. Your data backup and disaster recovery system is one of the most important investments for protecting your company, so make sure you consult with an expert in this area to ensure you are properly protected..
IT Service Providers Can Help Navigate the Best Path Forward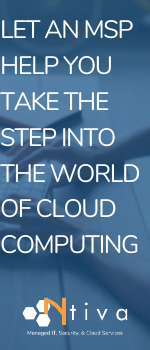 Managed Service Providers (MSPs) have been at this for years, enabling companies of every size in every industry to work across the globe, delivering connection and collaboration during natural disasters, pandemics, and more.
Through cloud-based apps and services such as Desktop as a Service (DaaS), Software as a Service (SaaS), and Infrastructure as a Service (IaaS), MSPs decentralize the technology required for your business to operate.
We've seen the future of remote offices, and we've been helping businesses tailor their own custom remote setups for many years.
Don't go at this alone. Let an MSP help you take the step into the world of remote working technologies.