Across all industries, the regulatory landscape is evolving at a rapid pace. With the ever-expanding ways personal data is being used, following your industry's required compliance level is more important than ever.
The good news is, it's possible to manage your compliance risk exposure by developing a risk management plan, and a great IT consulting company can make the complicated risk assessment process much easier.
Why Regulatory Compliance Matters
Regulatory guidelines are laws applied by various governing bodies over a specific industry. They deal with every piece of a business; from safe working conditions to equal opportunity hiring requirements, but today, we're talking about the information technology side of things.
Non-compliance with your industry's guidelines will cost you. The annual cost of non-compliance for businesses is around $14.8 million, while the average organization spends $5.5 million to meet compliance regulations.
Sounds like a a lot, but it's cheaper than non-compliance!
Thus, the importance of a risk assessment framework can't be overstated.
Here are five ways you can quickly and effectively improve your regulatory compliance by devising a proper strategy.

How And Why To Plan Ahead
A good risk assessment framework is anticipatory in nature. In other words, it helps you plan ahead.
Make use of future industry trends and forecasts to anticipate compliance challenges in advance. Don't wait until new compliance requirements emerge and you're scrambling to catch up with them.
If you're always scrambling to keep up with new regulations, or even worse, you've forgotten to maintain compliance with an old one, you're costing your business loads of time and money.
It may be necessary to look for outside help to maintain compliance with a reputable IT consulting company if you feel you've dropped behind.
Use Technology (and People) To Your Advantage

Don't underestimate the importance of technology in helping you improve your regulatory compliance.
There are so many tools that can help with risk analysis. Use these to deal with any issue as soon as it arises.
It's one thing to spot a possible issue, but to really put the issue to bed, you must resolve the assessed risk as quickly as possible.
Automate workflow processes where possible to reduce the risk of human error. If there's one thing we know, it's that people make mistakes!
With that being said, be sure to pay attention when one of your employees speaks out about a potential hazard.
They are the ones handling most of the daily operations, and can help pinpoint issues before they spiral out of control.
Build a Comprehensive Framework
The easiest way to stay compliant is to build a framework template.
This means you and your team need to devise a comprehensive regulatory compliance framework as part of your overall risk management plan.
A strong framework should include:
A regulatory matrix outlining the applicable laws, regulations, and protocols
An overview of the compliance risk inherent in each applicable regulation or law, followed by a more detailed summary
Steps for reviewing and monitoring regulatory compliance across the organization, compliance continuity and mitigating risk
A procedure for identifying breaches, correcting them, and preventing them from happening again
A solid risk assessment framework acts like a road map for keeping your regulatory compliance on the right track. Make sure it includes every law, regulation, and protocol you need to comply with!
Even if this requires an audit for framework review and update, the peace of mind is priceless.
Collaborate and Communicate
In case you haven't noticed, regulatory compliance is a team effort.
To make sure you're compliant year-round, you'll need to build regulatory compliance into your daily operations and business workflows and encourage staff to ask questions if they're unsure about anything.
Devise protocols for communicating regulatory changes across your organization, and revise your risk management plan if any problems arise.
This should include regular meetings to check on things like the framework you're using and the daily ability to maintain your compliance. A collaborative organization is a resilient one.
Train Your Staff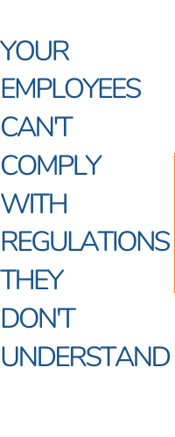 Without proper training, your staff may unwittingly commit major regulatory breaches. However, your employees can't comply with regulations if they don't understand how to follow them.
End-user training is absolutely crucial for every aspect of your business, but when it comes to technology, the need is even greater.
With the rise of phishing and ransomware, your employees need to know what to look out for. The level of risk has never been higher.
Your compliance won't mean anything if your business is lost to a ransomware attack, and even if there is no known attack, the laws around data protection and theft are becoming stricter every year.
Develop a clear company policy on regulatory compliance, and ensure staff receive briefings on any regulatory developments that affect them.
Make guides, policies, and procedures available to staff, and ensure that everyone knows where to access these documents. This will help reduce the level of risk overall.
A Great Risk Assessment Framework Saves You
Time and Money
With regulations evolving all the time, every organization is vulnerable to falling short of their compliance obligations. You have other tasks to handle in your daily work, and it can be easy to let a compliance standard slip.
The absolute easiest way to manage your IT compliance requirements is to hire an IT Service Provider. This way, the entire process can be taken off your plate, and you can be provided with updates on what needs done and how it's being completed.
A great IT Service Provider will have the capacity to handle all regulatory issues for any industry, be it legal, finance, government contracting, or even healthcare.
Every industry is different, and may have different regulations to follow, but any worthwhile outsourced IT Provider will have the staff to provide the support needed to meet and even exceed your business's regulatory standards.
The cost of non-compliance is too high to take any chances.
Are you using an outdated IT risk assessment framework? Are you worried about changing laws or regulations? Maybe just need a second opinion on your current IT infrastructure?
Click the link below to schedule a free risk assessment with our experts!